World news story
Magna Carta exhibition in Shanghai
To mark the 800th anniversary of Magna Carta, an original charter from Hereford Cathedral will be open to the public in Shanghai on 25 October.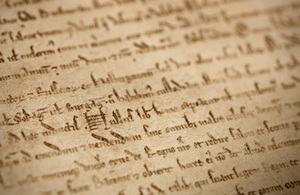 An internationally celebrated legal text, Hereford Cathedral's 1217 charter – one of only four extant examples of the original – will be on public display in the British Centre on 25 October. This is a great opportunity for people in East China to express interest in viewing Magna Carta in Shanghai this weekend.
The exhibition is themed as the Impact of Legalisation on Financial Services in London and Shanghai. Magna Carta is 800 years old but its relevance and influence reach across into the present day because it has provided a clear framework on which English law – which underpins much of global commerce globally – is based. The UK is the leading global centre for provision of international legal services and dispute resolution with an envied reputation for the fair, effective and transparent resolution of international commercial disputes.
This visit is another milestone in a golden year of UK-China relations. The Duke of Cambridge had a successful visit to Shanghai in March; Chancellor of the Exchequer, George Osborne, has visited shanghai recently; and President Xi starts his first State Visit to the UK this week. The State Visit will build upon existing areas of cooperation and open up further areas of collaboration, including in the field of rule of law.
Mark Logan, Head of Communications at the British Consulate Shanghai said:
The Magna Carta tour will provide the first ever opportunity for members of the public to see the document up close in Shanghai.
The British Consulate-General Shanghai opened the online registration last Friday and people can express interest in viewing Magna Carta via the instructions below:
1. Please follow British Consulate-General's Wechat official account (Wechat ID: BCG_Shanghai)
2. Reply to us with
Your name+Choosing one time slot below:
11:00-12:00
12:00-13:00
13:00-14:00
14:00-15:00
15:00-16:00
16:00-17:00
17:00-18:00
3. If successful, you will give a Wechat E-ticket (First come, first reserved basis)
Document information
Published: 19 October 2015