Luxembourgers Doing Business in the UK
Mr David Lidington, Minister for Europe, opened the seminar and joined the company attendees for the presentations and discussions.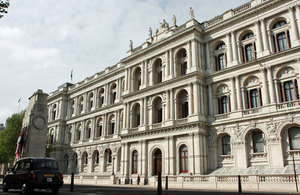 The UK Ambassador to Luxembourg, The Honourable Alice Walpole, and UK Trade & Investment Luxembourg hosted a 'Doing Business in the UK' breakfast seminar for companies headquartered in Luxembourg and looking for business opportunities in the UK on Wednesday 25th April 2012.
The seminar was a great success, attracting a wide range of companies from entrepreneurs and SMEs to multinationals and from potential to existing investors in the UK. Dr Jan Koninghaus, Chief Counsel at AVEGA Luxembourg and John Lapthorne, FCMA Tax and Finance Specialist for UK Trade & Investment delivered educative presentations.
Dr Jan Koninghaus highlighted the differences between establishing a company in Luxembourg and the UK and the simplified process in the UK following the introduction of the Companies Act 2006. The UK is the easiest location to set up a business in the EU and G8 according to the 'Doing Business 2011' report from the World Bank. It takes just 13 days to set up a business in the UK, compared to the European average of 32 days and the world average of 35 days.
John Lapthorne's presentation focussed on the recent changes to the UK tax system such as R&D tax credits, patent box and the reduction in corporation tax. In April 2011, it was decided to reduce the UK corporation tax rate from 28% to 26%. From April 2012, the rate was further reduced to 24% and will year on year be reduced until 2014 when it will stabilise at 22%, making it one of the most competitive tax systems in the G20.
The UK continues to provide a stable environment for companies to grow and take advantage of opportunities such as a 'business-friendly' establishment procedure and a simplification of the tax system.
UK Trade & Investment Belgium & Luxembourg works alongside companies to help identify opportunities. If you are a company based in Luxembourg and would like more information on doing business in the UK, please don't hesitate to contact Thomas Flammant on 00352 22 98 64 2216.
Published 8 May 2012