Press release
Lowest number of Jobseeker's Allowance claimants in Wales for 6 years despite rise in unemployment
Stephen Crabb: "A positive long term trend but these figures show there's no room for complacency."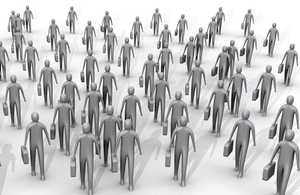 The number of people claiming Jobseeker's Allowance in Wales fell by 1,200 in November – the 21st consecutive monthly fall - despite an increase in unemployment, official figures published today (17 December) show.
Data from the Office of National Statistics (ONS) shows that while unemployment was up by 8,000 over the quarter, the number of people claiming Jobseeker's Allowance in Wales is at its lowest level for six years.
Youth unemployment also fell by 700 last month and by almost 6,000 over the year.
Long term unemployment in Wales was also down - by 5,100 over the past year and by 600 in the last month alone - as the UK government helps thousands of hard to reach people find jobs through its Work Programme.
Overall, since May 2010 there are now 28,000 more people in work in Wales while separate figures published by the ONS last week showed that between 2012 and 2013 the Welsh economy grew faster than any other part of the UK.
Welsh Secretary Stephen Crabb said:
Despite the rise in unemployment over the past three months, the underlying trend is positive and the Welsh economy is growing.

I am also particularly encouraged to see unemployment amongst young people in Wales continuing to fall - down by almost a third over the year.

We are creating the right long term conditions to help grow the economy but we know that we face some big challenges and there is more to do.

That is why I am determined that we continue with our long term plan for growth to increase living standards, strengthen the economy and ensure a more financially secure for hardworking people across Wales.
View the latest statistics here.
Published 17 December 2014