Press release
Loundsley Green volunteers latest winners of Big Society Award
Loundsley Green volunteers are the latest Big Society Award winners, for saving a local building from demolition and helping people into jobs.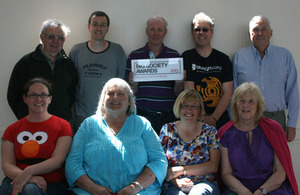 A group of volunteers in Loundsley Green who created a vibrant community from a building due for demolition will today be recognised by Prime Minister David Cameron with a Big Society Award. The community centre now helps over 300 local people a week with skills ranging from business development to free basic IT classes for older people.
Loundsley Green Community Trust, a volunteer-run community development charity, was formed by local residents in 2010 to save the last remaining community building in a deprived area from demolition. The dilapidated building was transferred to the community with the help of the Church of England and in only 2 years was turned into a thriving community centre with a wide variety of new services, activities, events and partnerships, creating benefits for all.
The centre now offers a range of services, including:
'young at heart', a social and learning club for older people
a teenage youth club, run in partnership with the county council
a parent and toddler group, run by volunteers
enterprise coaching and mentoring, helping people with the skills to create their own business
free basic IT classes, which are essential for helping people into employment and to assist older people in accessing information and services
Since 2010, the Trust has also seen:
more than 300 people using the centre each week
80 people supported through free personal enterprise coaching service
40 people back into employment in the last 18 months
£75,000 raised for the renovation of the community centre
a newsletter that now reaches 3,000 homes each quarter
Commenting on the award Prime Minister David Cameron said:
These volunteers have taken an empty shell of a building and transformed it into a thriving community centre. I'm pleased to be able to pay tribute to them - they had the vision to see what was possible and the determination to make it a reality.

Whether it's vulnerable older people, people who feel isolated or young people who need support getting into the workforce, the centre is empowering local people and giving them new opportunities. This is what the Big Society is all about.
Simon Redding from Loundsley Green said:
We're really happy that the hard work all our volunteers have been doing over the last few years has been recognised in the Big Society Awards. Anyone can do this – we just saw an opportunity to make a turning point in our community and we all grouped together to make it happen.
Thanks to a great team of volunteers, regular publicity around the local community and some careful management of its money, the centre now pays its own way and should be sustainable for many years to come while still offering cheap, or free room hire to charity and community groups. The Trust hosts and promotes regular activities to keep the centre lively and it is constantly in use by residents.
Future developments and activities are generated through open monthly community meetings & surveys. This will shortly result in the launch of the town's first food bank, in partnership with local churches and the Trussell Trust. September will see the completion of a kitchen refurbishment and the launch of inter-generational cookery classes – passing on experience and skills to future local chefs.
The community trust is always looking for new volunteers to join them in changing their community.
Notes to editors
About the Loundsley Green Community Trust
The Loundsley Green Community Trust is a community development charity covering the neighbourhoods of Loundsley Green & Holme Hall in the west of Chesterfield, Derbyshire. It is a non-profit volunteer-led organisation. All monies received are invested in facilities or activities for the benefit of the community.
Find out more about the continued work of the trust.
More information on the IT training initiative.
More information on Food Bank.
On the Big Society Awards
The Big Society Awards were set up by the Prime Minister in November 2010. The aim is to acknowledge individuals and organisations across the UK that demonstrates the Big Society in their work or activities. In so doing, the aim is also to galvanise others to follow.
The award focuses on 3 specific areas:
Outstanding contribution to community
people, projects and organisations that enable communities to drive change themselves
projects and organisations that allow the community to identify solutions
people, projects and organisations that inspire others to contribute to their community
Improving lives and society through innovation, collaboration and new partnerships
people and organisations taking new approaches to public services
successful collaboration and partnerships between public, private and voluntary sector - working together to benefit communities
Engaging in social action
people, projects and organisations taking action in their community
working together for social change (eg through creating groups, campaigns, movements)
generosity of time, money, skills and other resources – in support of social action
Launching the awards, the Prime Minister said:
There are some amazing projects and remarkable voluntary work going on in towns and cities up and down the country, by all kinds of organisations from large enterprises to tiny grassroots schemes and inspirational individuals.

These awards are a chance to pay tribute to those making a valuable contribution to their community, the real champions of the Big Society, but perhaps more importantly, I hope they will motivate many others to take action, get involved and drive change in their area.
Nominations come in from the general public after which there follows a process of scoring and short-listing by civil servants and a further short-listing by a panel of ministers and independent external experts. This panel makes recommendations to the Prime Minister who makes the final decisions about who to make the award to. Twelve winners are decided each quarter meeting and then announced once a week throughout the year.
Blacon Community Trust - the Trust's mission is: "to build a better Blacon through the active involvement of the community to find local solutions to local problems".
City Gateway - offering disadvantaged individuals everything from community events and drop-in youth clubs to apprenticeship schemes.
The Welcome - a community centre which has been providing activities and vital services for the local community in Knutsford for over 15 years.
Read the full list of winners.
Published 8 July 2013