News story
Louise Casey calls for family intervention approach
The head of the Troubled Families programme has endorsed family intervention as the most effective way to turn problem families around and help them get on in life.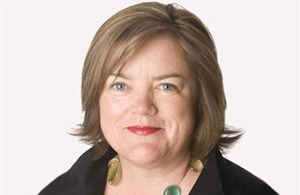 Following a look at the academic evidence, alongside consultation with practitioners and families themselves, Louise Casey today published a new report that shows the life-changing results that good family intervention can have on even the most challenging households, along with a guide to best practice.
The 'Working with Troubled Families' report outlines that family intervention reduces:
involvement in anti-social behaviour by 59%
involvement in crime by 45%
truancy, exclusion, bad behaviour at school by 52%
It also points to the 5 key features of effective family intervention being:
a dedicated worker, dedicated to a family
practical 'hands on' support
a persistent, assertive and challenging approach
considering the family as a whole - gathering the intelligence
common purpose and agreed action
Louise Casey is now calling on councils to review their own ways of working with troubled families and adopt these principles in order to ensure that the significant momentum that has built up behind the programme - with all eligible local authorities in England on board and committed to working with over 40,000 families in this financial year - continues in 2013.
In order to push on with this work and make further progress towards the Prime Minister's pledge to turn around the lives of 120,000 troubled families by 2015, the Department for Communities and Local Government will also be holding a series of training academies for local authorities in the new year to help share best practice on family intervention and provide masterclasses from some of its leading exponents.
Head of the government's Troubled Families programme Louise Casey said:
"My last report was about listening to troubled families themselves and some of the stories from families were truly appalling. However these were families successfully going through family intervention and the results were impressive - so I wanted to ensure that this practice is adopted as widely as possible.
"This report makes a strong case about what works - family intervention that involves one dedicated worker for each family, providing tough but persistent challenge and support, has a dramatic impact, not just on the life chances of those within the families, but on the communities around them who suffer from the effects of truancy, youth crime and anti-social behaviour."
Communities Secretary Eric Pickles said:
"This important piece of work is a crucial step towards building a wide campaign of support behind the work we are doing to break an inter-generational cycle of misery and failure with these families. It will put rocket boosters under the Prime Minister's pledge to turn around 120,000 troubled families by 2015.
"Effective family intervention also demonstrates that savings can be made for taxpayers by putting families back on the right track for the long run, rather than wasting money on simply reacting to their problems. We must have aspiration for every family and this work will reach all corners of the country."
Dame Clare Tickell, Chief Executive of Action for Children, said:
"Since developing the initial model, we've seen how family intervention can really help vulnerable families facing multiple difficulties in their lives. It works by forming effective relationships with families and building on their strengths. This timely guide is a welcome resource, which will help people understand the key features of the model, learn what really works and ensure that projects are delivered to a high quality."
Further information
All eligible local authorities are running troubled families programmes in their area and between them have committed to start work with 41,835 families across England by the end of this financial year, over a third of the 120,000 the Prime Minister wants to see turned around by the end of this parliament.
The Department for Communities and Local Government is today also publishing management information on the work of family intervention projects and services in England up to 31 March 2012. This reports the latest data at a national level for all participating family intervention services. It includes information on the families worked with and the percentage of families considered to have a successful outcome in relation to family functioning and risk, crime/ anti-social behaviour, health and education/ employment. This data was collected by the National Centre for Social Research (NatCen) which ran a secure web-based information system into which family intervention project staff recorded details of the families they worked with between 2007-2012. It can be found at Annex B of the 'Working With Troubled Families' report.
Published 15 December 2012