Lord Howell reaffirms the UK's commitment to promoting religious freedom
Lord Howell highlighted concerns over the treatment of Christians across the Middle East in a debate in the House of Lords on 9 December.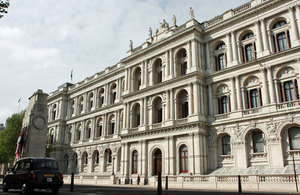 Lord Howell commended the efforts of the Archbishop of Canterbury in raising concern over the treatment of Christians across the Middle East and welcomed the statements from fellow Lords condemning the violence and persecution of Christians and other religious minorities..
Discussions around the Arab Spring and the implications for non-Muslims was a central theme of the debate, with activities in Egypt, Iraq, Syria a major cause for concern; "the treatment of religious minorities and the way that Governments deal with them is really the litmus test of whether we are watching a truly liberalising democratic process unfolding in the Middle East region."
The need for inter-faith working, tolerance, and rhetoric used to discuss Christians in the region were also major topics of discussion. Lord Howell pointed to the UK's commitment to fund a meeting of the High Council of Religious Leaders in Iraq as an example of our commitment to promoting religious freedoms across the Middle East.
In his closing remark, Lord Howell said:
"The Government take this whole issue and the theme of this debate, so eloquently promoted by the most reverend Primate, very seriously. We place tremendous value on religious freedoms and are wholeheartedly working to improve the situation. Let us hope that more open and democratic societies take root in the Middle East over the coming years, creating an environment in which all faiths can live and work together in peace and prosperity, as they have at times in the past and could do again if we work hard enough at it."
Published 9 December 2011