Lord Howell attends the fifth World Future Energy Summit in Abu Dhabi
During the Summit, Lord Howell met with over 30 British companies pioneering low carbon technologies at the UK Pavilion.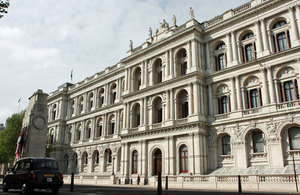 He also attended a packed Embassy reception; VIP reception and sold-out breakfast briefing in support of British companies at the Summit. He also took part in a ministerial discussion on the role of government institutions in accelerating the transition to a global clean energy economy, during which other speakers identified the UK as having some of the world's highest-ambition low carbon policies. Lord Howell said "low carbon investment will provide the foundation for our energy security," and that, "through public-private cooperation, the Government is providing a supportive regulatory framework that facilitates, as well as requires, action and innovation by the private sector".
While in Abu Dhabi, Lord Howell took the opportunity to meet with energy minister Al Hamili, ADNOC (Abu Dhabi National Oil Company) CEO al-Suwaidi and Supreme Petroleum Council Secretary-General al-Dhahaeri, with whom he discussed the need for a diverse energy mix, international energy security and forthcoming oil and gas opportunities for UK industry alongside other bilateral issues.
The UK's non-profit Carbon Disclosure Project (CDP) also won a top Abu Dhabi accolade yesterday. The "SME & NGO" category of the Zayed Future Energy Prize went to CDP in recognition of its work to catalyze the transition to a profitable low carbon economy, drive greenhouse gas emissions reduction and sustainable water use by business and cities.
Search the news archive
Published 19 January 2012