Lord Hill responds to The Times on free schools
Letter from the Schools Minister to The Times on free schools.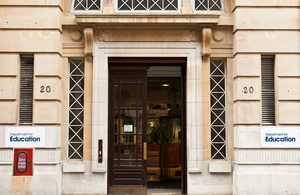 Sir,
It is disappointing that Monday's article plays down the hard work and achievement of so many passionate teachers, parents and charities that have set up new schools to improve education for children in their area (Pupil numbers are scaled back after failure to fill places, Monday 29 August 2011).
Contrary to the gloomy picture painted, many of the free schools opening for the first time in September report that they are oversubscribed - with some receiving four applications for one place.
The fact that hundreds of families are putting their faith in these brand new schools - schools that do not yet have exam results or Ofsted ratings to prove their worth - is remarkable. It clearly shows that parents want a better choice of local schools - run by teachers, not bureaucrats - which offer strong discipline, excellent teaching and high standards.
Lord Hill of Oareford CBE
Parliamentary Under-Secretary of State for Schools
Published 31 August 2011