Lord Hill congratulates winners of the Outstanding School Governance Awards
Lord Hill congratulates the winners of the National Governors' Association's annual Outstanding School Governance Awards.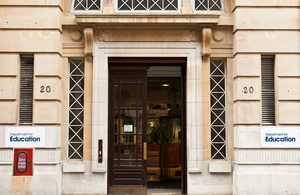 Schools Minister Lord Hill today congratulated the winners of the National Governors' Association's 'Outstanding School Governance Awards 2011'.
Governing bodies are responsible for schools, their standards and their conduct. Governors aim to ensure that children are attending schools which provide them with a good education and support their well-being. Over the past decade the responsibilities of governing bodies have grown, and this continues with the increasing autonomy the Government is giving to schools.
There were two awards presented: one for outstanding governing bodies and one for outstanding clerks to governing bodies.
Lord Hill said:
Many school governors and clerks make an outstanding contribution to the job of running their own school and of helping to set the standards for all governing bodies. Today's winners highlight some of the best and I am delighted to have the chance to congratulate and thank them.

Governing bodies should be the key strategic body for a school. We want to attract more excellent school governors and have more effective governing bodies supported by trained clerks. That is why we are making it easier for schools to choose more flexible governing bodies made up of people equipped with the right mix of skills to suit the needs of their particular school.
Further details about the awards can be found on the NGA website.
DfE enquiries
Central newsdesk - for journalists 020 7783 8300
General enquiries - for members of the public 0370 000 2288
Published 12 April 2011