Lord Green looks East to boost trade opportunities
Trade and Investment Minister Lord Green arrived in China today to begin a 5-day business tour which will see him visiting Beijing, Chonqing and Hong Kong.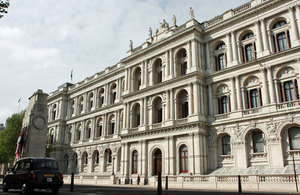 Trade and Investment Minister Lord Green
This follows the Prime Minister, David Cameron's, visit to China last November where he led a significant UK business delegation and came to an agreement with the Chinese Government to double bilateral trade by 2015.
China is the UK's ninth largest export goods market, and there are several hundred British companies with a base in the country.
Last year, UK exports of goods to China increased by more than 40 per cent to £7.2 billion. The UK is particularly strong in the services sector, exporting £2.3 billion of services to China in 2009.
Lord Green said:
"China has seen spectacular unbroken growth over the last thirty years and is a market that is very important to the UK's economic development. It is our key partner for growth.
"I have lived in China for a significant time and I know, first hand, the opportunities that exist here. I want to encourage more British businesses, especially small and medium enterprises (SMEs) to seize on these and expand into Chinese markets, not just Beijing but the emerging cities as well."
The UK Government recently published a Trade and Investment White Paper, to emphasise the importance of open markets, and of working with overseas partners when seeking economic growth.
The Paper particularly looked at emerging economies like China as the future of global growth, and the Government is now looking more than ever to the opportunities this presents, especially in high value Chinese and Hong Kong infrastructure projects. However this can only be achieved where there is good market access for UK companies.
Lord Green will also use this visit to emphasise the attractiveness of the UK as an investment destination. China already has a strong presence in sectors such as energy and high-speed rail and this is expected to increase as more opportunities open up in the area of infrastructure.
The Head of Infrastructure UK, Andy Rose, will be joining the Minister to give more details on where these opportunities are likely to be and how Chinese companies can capitalise on them.
Lord Green said:
"The UK has one of the most open economies in the world, and is the number one gateway to Europe: a significant advantage for any overseas company seeking to establish itself here.
"We are also world class in a range of sectors from ICT to security, education to the creative industries, and a great deal of manufacturing takes place here.
"I want to show how attractive a destination the UK can be for innovators and entrepreneurs, and how much we have to offer investors. There is a real hub of impressive knowledge and skills that can benefit any company that chooses to come here."
During the course of this week Lord Green will be visiting a series of projects across China, demonstrating the country's diverse skills and economic developments. Further visits from senior Chinese figures to the UK are expected during the year, following the visit of Li Keqiang in January.
UK/China fact file
The UK ranks alongside Germany as the largest European investor in China (in cumulative terms), with at least 25 per cent of the EU total.
The total realised stock of UK investment in China reached US$17.1 billion.
In 2009, the realised value of investment from the EU27 into China was $5.12 billion; the UK's investment into China by value was $680 million in 2009, 13.3 per cent of the EU total. China received a total of $95 billion in foreign direct investment in 2009.
In 2009, China's investment into the EU27 by realised value was $473 million.
The UK is the second largest recipient of Chinese investment in the EU.
Chinese investment into the UK was $44 million in 2009, 9.3 per cent of total Chinese investment to EU. By the end of Aug 2010, Chinese investment into the UK by stock was US$1.13 billion.
From mainland China, the UK attracted 74 foreign direct investment (FDI) projects in 2009/10, with 1,572 associated jobs, a 25 per cent increase in projects and a 76 per cent increase in jobs.
The UK is now home to over 400 mainland Chinese companies.
52 Chinese companies are listed on the London Stock Exchange (8 on the main market and 44 on AIM, against the target of 100 by the end 2010).
In the last 3 years Chinese Companies have committed to over 50 R&D Collaboration projects with a further 50 in the pipeline.
Published 21 March 2011