Press release
Lord Freud to retire from ministerial role
Minister for Welfare Reform, Lord Freud will be retiring from his ministerial position at the Department for Work and Pensions.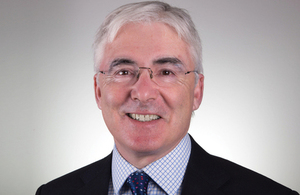 Minister for Welfare Reform, Lord Freud, has announced he will be retiring from his ministerial position at the Department for Work and Pensions at the end of December.
Having overseen the inception, development, and successful introduction of Universal Credit, Lord Freud is the architect of welfare reform, which has revolutionised the way benefit claimants interact with the state.
Lord Freud has been at the DWP since 2010, making him the government's longest serving Minister in the same role.
Minister for Welfare Reform, Lord Freud said:
At the heart of our reforms is desire to give people independence to improve their lives. For too long, people have been trapped by a byzantine benefits system, leaving them powerless. This has always been my driving force – to give people back control over their own lives; to give support in times of need, but also to give a clear route out of the benefits system and into independence.

That's what Universal Credit does, and I'm incredibly proud of what we have achieved. It's a testament to the support I've received both from my ministerial colleagues and civil servants in the DWP that we are now well on the way to achieving our goal of a truly modern, responsive welfare system which is already transforming lives.

As I retire from my ministerial position, I leave with full confidence in the future of Universal Credit.
Work and Pensions Secretary Damian Green said:
Everyone comes into government to make a difference, but David's contribution to transforming the welfare system has been outstanding. As the architect of Universal Credit, he combines vision with an impressive attention to detail. Moreover, he cares greatly about improving the lives of some of the poorest people in our country.

I want to thank him for everything has done over the years at DWP, and for all the help and support he has given to me and his ministerial colleagues. His will be a legacy of which he can be truly proud.
Before becoming a minister, David Freud had a career as a journalist, writing for the Financial Times. He then worked in the City for 20 years, becoming vice-chairman of investment banking at UBS. Following this he was the CEO of the Portland Trust foundation for 3 years.
Lord Freud was appointed shadow Minister for Welfare Reform in February 2009, having previously advised the Labour government on how to reform the welfare system. In 2010, he was appointed Parliamentary Under Secretary of State for Welfare Reform at the Department for Work and Pensions, and was reappointed as Minister of State for Welfare Reform in May 2015.
The appointment of a successor DWP Minister in the House of Lords will be announced in due course.
Contact Press Office
Media enquiries for this press release – 020 3267 5112
Press Office
Caxton House
Tothill Street
London
SW1H 9NA
London Press Office (national media and London area enquiries only – not questions about personal claims) 020 3267 5144
Out-of-hours (journalists only) 07623 928 975
England and Wales (local media enquiries) 029 20 586 then 097 or 098 or 099
Scotland (local media enquiries) 0131 310 1122
Follow DWP on:
Published 1 December 2016