Lord Carlile submits review of the Edlington Case
Today (16 November 2012) Lord Carlile has submitted his review of the Edlington Case to Education Secretary Michael Gove.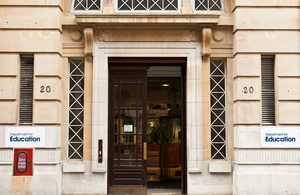 This review was commissioned by the Secretary of State in March 2012 following full publication of the Edlington Serious Case Review. He was concerned that although the SCR documented key events in the case of the J brothers there was insufficient scrutiny of what could have been done differently.
As part of his review Lord Carlile looked at wider child protection issues as well as focusing closely on the situation in Doncaster.
Later today the Education Secretary, Michael Gove, will welcome Lord Carlile's report in his speech on child protection hosted by IPPR.
Notes to editors
The full Carlile Review - The Edlington case: A review by Lord Carlile of Berriew CBE QC - can be found in the publications section.
DfE enquiries
Central newsdesk - for journalists 020 7783 8300
General enquiries - for members of the public 0370 000 2288
Published 16 November 2012