Press release
Lord Bernard Ribeiro confirmed as Chair of the Independent Reconfiguration Panel
Lord Bernard Ribeiro is today confirmed as Chair of the Independent Reconfiguration Panel.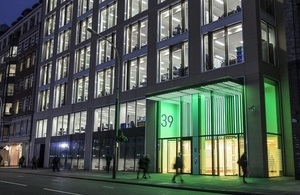 He spent 29 years working as a consultant surgeon at BasildonHospital, where he pioneered the use of keyhole surgery, and served as President of the Royal College of Surgeons from 2005 to 2008.
Health Secretary Andrew Lansley said:
"I am delighted to announce Lord Bernard Ribeiro as the new Chair of the Independent Reconfiguration Panel. The independent advisory role of Chair and that of the Panel itself is very important as we move forward with ensuring safe, sustainable and accessible services for local populations. As such, I am confident Lord Ribeiro will bring with him a wealth of expertise and good judgement to this position."
Lord Bernard Ribeiro said:
"I am delighted to have been appointed as the new chairman of the Independent Reconfiguration Panel. The introduction of the Health and Social Care Act 2012 and the drive to improve the quality of care for patients will provide the bulk of the Panel's work as the shape of care begins to change.
"I look forward to working with patient representatives and professional colleagues to provide the Secretary of State with expert advice."
The Independent Reconfiguration Panel provides advice to the Secretary of State for Health on contested proposals for changes to local health services inEngland.
Lord Ribeiro will take up post as Chair of Independent Reconfiguration Panel from 2nd July 2012.
 ENDS
 Notes to editors
For media enquiries only please ring the Department of Health on 0207 210 4939.
This appointment is made in accordance with the Code of Practice for Ministerial Appointments to Public Bodies, issued by the Commissioner for Public Appointments.  All appointments are made on merit and political activity played no part in the selection process. However, in accordance with the original Nolan recommendations, there is a requirement for appointees' political activity (if any declared) to be made public. Lord Ribeiro is a Member of the Association of Conservative Peers.
Lord Ribeiro does not hold any other public appointments.
Lord Ribeiro's appointment will be for four years and he will receive remuneration of £36,780 for a time commitment of approximately two days a week, including six meetings a year.
For further information on Independent Reconfiguration Panel visit the website.
For further information on the process for managing public appointments visit the Public Appointments website.
Published 13 June 2012