News story
Lord Ahmad outines benefits of Heathrow expansion to Scotland
A new runway at Heathrow would boost jobs across the UK.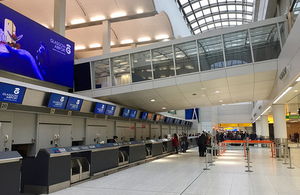 Heathrow's north-west runway is government's preferred choice to deliver airport expansion

980,000 extra passengers could fly from Scotland to Heathrow in 2040

more flights, better connections and cheaper fares for passengers

safeguarded routes from Glasgow, Edinburgh, Inverness and Aberdeen to Heathrow and new route to Prestwick
A new runway at Heathrow would boost jobs across the UK, lead to more flights and better connections, and link Scottish businesses to expanding global markets, Aviation Minister Lord Ahmad said at Glasgow Airport today (26 October 2016).
The government's preferred location for airport expansion was announced yesterday and will be taken forward in the form of a draft National policy statement for consultation in the new year.
Lord Ahmad discussed the benefits of Heathrow expansion to the Scottish economy with Glasgow Airport's Chief Executive Amanda McMillan.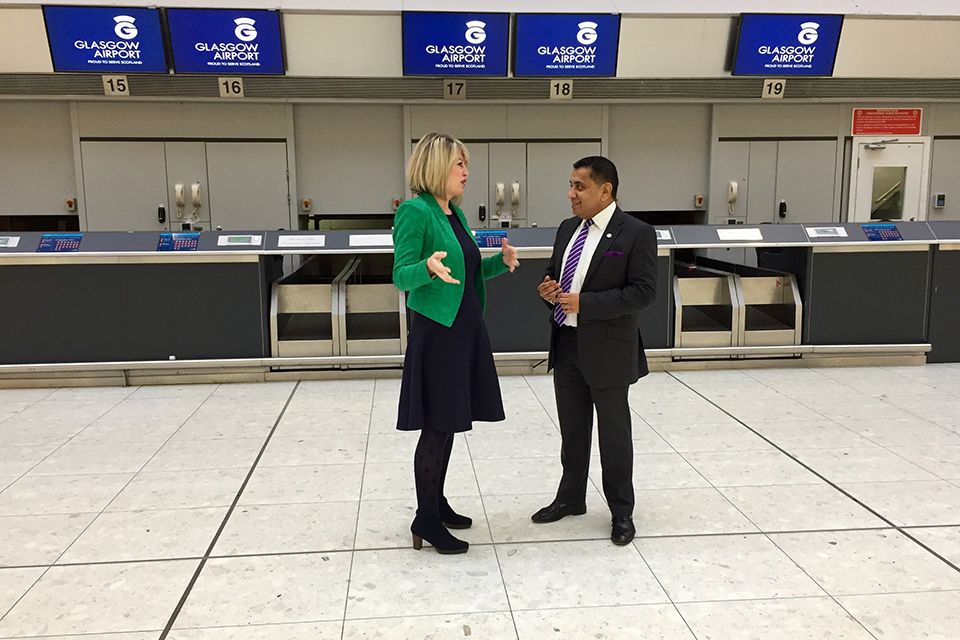 More flights and new routes would link Scotland to new places and improve existing connections around the world and show the whole of the UK is open for business.
A new link between Heathrow and Prestwick is expected by 2030, and expansion would help to protect the airport's current services to Edinburgh, Glasgow, Inverness and Aberdeen.
The third runway could mean more direct flights between Heathrow and Scotland, leading to increased competition and lower fares.
Lord Ahmad said:
Heathrow expansion is not just for London and the south of England, it would bring great benefits to the whole of the UK and shows we are open for business.
Expansion would open capacity, introduce new routes and more flights, which would provide Scotland with new opportunities – both for business and travellers.
Freight exports would also increase at Heathrow – offering more options for Scottish companies. In 2014, almost £300 million of Scottish salmon was flown from Heathrow.
Aviation and maritime media enquiries
Media enquiries 020 7944 3021
Out of hours media enquiries 020 7944 4292
Switchboard 0300 330 3000
Published 26 October 2016