Looked-after children statistics 2011
Response from Tim Loughton to the 2011 looked-after children statistics.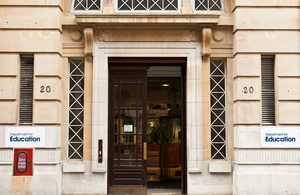 65,520 children were looked after at 31 March 2011, an increase of 2 per cent on 2010 and the highest number since 1987.
The vast majority of children looked after in 2011, 74 per cent, were in a foster placement.
The number of adoptions has continued to fall, with 3,050 looked-after children adopted during year ending March 2011, 5 per cent fewer than in 2010.
The number of children placed for adoption has also continued to fall, to 2,450, a reduction of 2 per cent on 2010 and a reduction of 10 per cent on 2007.
Only 60 children under the age of 1 were adopted in the year ending March 2011, compared to 70 children in 2010 and 150 in 2007.
The average length of time children waited to be adopted was 2 years and 7 months.
The proportion of care leavers not in education, employment or training has increased from 32 per cent in 2010 to 33 per cent in 2011.
Commenting on the statistics, Children's Minister Tim Loughton said:
Today's statistics are a timely reminder that we must redouble our efforts to do better for children in care.
It's worrying that the number of adoptions has continued to decline, and it's simply not good enough for vulnerable children to be waiting well over two years to be adopted. It's also concerning that for those children leaving care, around a third are not in education, employment or training - much higher than the general population.

We're determined to change this. New guidance, issued earlier this year, stripped away some of the myths blocking potentially suitable adoptions. A new adoption adviser, Martin Narey, is working to reduce delay in the system and help local authorities improve their practice. We are also helping to support care leavers into education and employment through the successful FromCare2Work programme.

But this is only the start. The Family Justice Review, due later in the year, will be crucial in tackling the delays and bureaucracy hampering the family courts. Later in the year, we will also be responding to Martin Narey's adoption report and addressing some of his concerns about the system.
Related links
Children looked after by local authorities in England. This statistical first release (SFR) provides statistics on looked-after children in England for the year ending 31 March 2011.
DfE enquiries
Central newsdesk - for journalists 020 7783 8300
General enquiries - for members of the public 0370 000 2288
Published 28 September 2011