Press release
Longest section of England Coast Path opens in Middlesbrough
Natural England today opens the latest stretch of England Coast Path in Middlesbrough, bringing an economic boost to the region.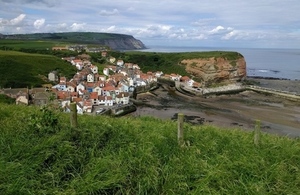 Sixty eight miles of sign posted National Trail will give walkers new and improved access and connect the urban heartland of Teesside to its open coast.
The continuous route starts at Filey Brigg and passes north through the popular resorts of Scarborough and Whitby, Saltburn and Redcar, providing stunning views of the North York Moors and coastline. It follows much of the well-known coastal section of Cleveland Way National Trail with improvements to the route.
Natural England is currently establishing a 2,700-mile path around the entire English coastline by 2020 and work is already under way on 60 per cent of the route. When completed, it will be the longest continuous coastal walking route in the world. It will also become a National Trail – the nation's finest and most popular long-distance paths.
Natural England's Chief Executive, James Cross, said:
It's an honour to open this section of coast path near my home town in Teesside. This route showcases the diversity of our coastline, from the views over the expansive North York Moors and the winding streets of postcard-perfect villages to our industrial heritage, and diverse wildlife all year round. We want people to enjoy exploring all of this coast, using a high-quality, well-signposted route.
The Department for Environment, Food and Rural Affairs also today confirmed that an additional 8 mile section between Newport Bridge and North Gare - which links the previously open 34 miles of coast path in Durham with the new section opening today – has also been approved and is expected to formally open next year. Walkers will then be able to enjoy 110 miles of continuous England Coast Path from Filey Brigg to South Bents.
Environment Minister Thérèse Coffey said:
With none of us living further than 75 miles from the sea – many much closer – thousands of people are already exploring and enjoying our spectacular coastline thanks to new stretches of coastal path across the country. Middlesbrough's old docklands and harbours represent an important and iconic part of the region's history, and this picturesque stretch of coastline will allow the generations of our future to connect with the landscapes of our past.
This is the second stretch of England Coast Path to open in the north east of England and is the longest one in the country so far; the second longest – a 66 mile stretch – opened in Kent this week.
A small section of new access has been created near Staithes, where the trail has been brought closer to the headland, and opened new and spectacular views down into the harbour. North of Saltburn, where the Cleveland Way turns inland, the route continues through Marske to Redcar along open coast, before turning west to follow The Teesdale Way. Walkers will enjoy the fascinating industrial heritage of the Tees Estuary before arriving in the historical centre of Middlesbrough.
Thanks to funding from Tata Steel and Redcar and Cleveland Borough Council, a footbridge to the east of Lord McGowan Bridge has been restored in order to re-establish the "Black Path", a previously blocked section of the Teesdale Way. Signposting along the entire route and some improvements to surfaces will enable walkers to navigate the route with confidence.
Attending the event, Middlesbrough Mayor Dave Budd, said:
We are delighted this route through Middlesbrough is the latest in the England Coast Path project to be opened up to the public. Around the various beauty spots of our town we have many marked walking routes which are very popular so to be able to add this new path, with its dramatic vistas and route past the Newport and Transporter Bridges, is fantastic. When we talk of the things which make Middlesbrough a great place to live we are always quick to highlight the places on our doorstep, such as the coast, the moors, the seaside villages, so we want to thank Natural England for making this path a reality.
Sir Gary Verity, Chief Executive of Welcome to Yorkshire, said:
The North Yorkshire coastline boasts some of the finest scenery in the UK and includes the second most popular holiday destination outside London – Scarborough – so it is terrific to see new and improved access to attract even more visitors and boost the economy.
Latest Natural England research (2016 Coastal Analysis of Monitoring of Engagement with the Natural Environment) due to be published this summer, shows 313 million visits were made to the English coast between March 2014 and February 2015. Findings also show that between March 2009 and February 2015, there was a 138 per cent increase in visits to paths, cycleways and bridleways at coastal locations. On average, during the same period (2009 to 2015) £18 was spent on coastal visits, compared to £6 on a visit to the countryside.
The creation of coastal paths in other parts of the country suggests the new path in North Yorkshire and Middlesbrough will bring clear benefits to the local economy. According to figures from the South West Coast Path report Unlocking Our Coastal Heritage, the National Trail is worth £400 million a year to the regional economy, equating to £630,000 per mile. According to counters on the previously opened South Bents to North Gare route, 10,000 people a year have enjoyed access to the coast and cliffs in a location which was previously inaccessible.
In addition to Middlesbrough Borough Council, Natural England also worked closely with three other local authorities to plan and prepare the route.
Malcolm Hodgson, National Trails Officer for the Cleveland Way based within the North York Moors National Park said:
Three of the top four views in Yorkshire are along the Cleveland Way National Trail according to a recent poll. Now that the trail is also part of the England Coast Path, and with a stunning new view of Staithes open to walkers, there's a chance we could claim all top 4 spots!
North Yorkshire County Councillor Don Mackenzie, Executive Member for Access to the Countryside said:
Walking is an extremely popular activity with tourists and locals in North Yorkshire, and this path will offer visitors and residents alike a new way to enjoy the county's beautiful coastline and take in the wildlife and heritage along its length. Tourism is hugely important to North Yorkshire and this high-profile new route offers fresh opportunities for tourism businesses. In addition, the path provides a new way for locals to enjoy the health benefits of walking.
Cllr Carl Quartermain, cabinet member for jobs, skills and leisure at Redcar and Cleveland Borough Council said:
We are delighted to be supporting Natural England with the creation of its 2,700 mile-long coastal footpath, which is cutting through some of the most scenic areas of Redcar and Cleveland. Our borough has a stunning coastline and beautiful countryside, and we hope this new right of access will encourage more visitors to come and enjoy it.
Background information
The England Coast Path #EnglandCoastPath gives walkers new rights of access to typical coastal land including foreshore, beaches, dunes and cliffs; including areas where everyone can rest, relax and admire the view. And, crucially, the path will now be able to 'roll back' as the cliffs erode or slips – enabling a replacement route to be put in place quickly if necessary, and so solving longstanding difficulties with maintaining a continuous route along the coast.
Tourism in Yorkshire is worth £7 billion annually and employs almost a quarter of a million people. The north Yorkshire and Middlesbrough coastline already attracts millions of people every year who enjoy visiting the popular destinations of Scarborough, Whitby and Saltburn. Welcome to Yorkshire estimate that just under 6 million tourism day trips were made to Scarborough in 2014 and day trip expenditure per head increased.
Natural England is working on 3 stretches of the north east coast, and we expect the remaining ones to open over the next couple of years.
Drone footage and photos of the coastline are available on Natural England's YouTube channel.
Published 21 July 2016