Press release
Longer and healthier lives to be the focus of Public Health England
Public Health England (PHE) will work to help people live longer, healthier lives by supporting and enabling local government, the NHS and the public to protect and improve health and wellbeing and reduce inequalities.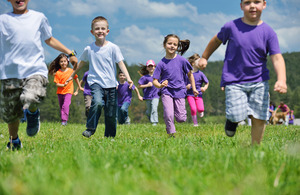 This new national body, an executive agency of the Department of Health, takes up its full responsibilities on 1 April 2013.
Using the new public health outcomes framework to measure our health for the next three years, PHE will help bring about fundamental improvements in the public's health and wellbeing, by focusing its energies on five key priorities:
helping people to live longer by reducing preventable deaths from conditions such as heart disease, stroke, cancer and liver disease

increasing healthy life expectancy by tackling conditions which place a burden on many lives, such as anxiety, depression and back pain

protecting the population from infectious diseases and environmental hazards, including emerging risks and the growing problem of antimicrobial resistance

supporting families to give children the best start in life, through working with health visitors, Family Nurse Partnerships and the Troubled Families Programme

helping employers to facilitate and encourage their staff to make healthy choices
Duncan Selbie, chief executive of PHE, said:
"For the first time in 40 years local authorities will have a legal responsibility for improving the health of their communities. Local government is the natural leader for this task – they will be able to place health and wellbeing in the wider context of the local economy, housing, leisure, education, crime and community resilience, and have the skills, knowledge and passion to provide public health services designed for the needs of their local population.
"PHE's role will be to encourage and inspire. We will support national and local government and the NHS by providing professional advice, knowledge and evidence, and help people to make healthier choices. We will also nurture the development of the public health system and the professional workforce, and regularly report on outcomes and progress – promoting success and having the courage to challenge where required."
He continued:
"The recent publication of the Global Burden of Disease study, which found that levels of ill health in the UK are above average compared with 18 other countries for most conditions, was a real wake-up call for the UK, as well as an opportunity.
"Smoking, high blood pressure, obesity, physical inactivity and alcohol are five main risk factors for ill-health and many of the major causes of premature death. Poor mental health, substance abuse and musculoskeletal disorders such as back pain, are among the main drivers for disability. The reality is that nearly all of these conditions are either preventable or can have less of an impact when diagnosed early. PHE has the opportunity to make a substantial difference to people's lives, and reduce the tremendous psycho-social and economic burden of poor health on our society.
"If we are to help people live longer, healthier lives, the broader health system urgently needs to intensify efforts in these areas. And we need to redress a historic imbalance by focusing as much on the prevention of ill health and the promotion of wellbeing as we do on ensuring effective, high quality and accountable clinical care and rehabilitation services.
"Ultimately, in order to really make a difference in improving our nation's health, concerted action will be required, with individuals, families, local communities, local councils, the NHS and government all taking responsibility and working together towards a healthier population. We already have a range of effective tools for individuals, clinicians and policymakers to respond to these health challenges. We need to apply and scale-up what we know works. And we need the will to make this happen.
"The creation of PHE and the movement of public health into local authorities are huge transformational opportunities for improving the public's health, and there could be no better time to do things differently. PHE is in a unique position in that it can take a wide overview of public health and the causes of ill health. We will work alongside local authorities and the NHS to ensure national and local resources are directed towards the areas where attention is needed most and the biggest improvements can be made to meet the needs of our demographically changing population."
Notes to editors
Public Health England is a new executive agency of the Department of Health that will take up its full responsibilities on 1 April 2013. PHE will work with national and local government, industry and the NHS to protect and improve the nation's health and support healthier choices and will be addressing inequalities by focusing on removing barriers to good health. To find out more visit our website www.gov.uk/phe, follow us on Twitter @PHE_uk

Sender bodies moving into PHE include the Health Protection Agency, National Treatment Agency, Public Health Observatories, UK National Screening Committee and NHS cancer and non-cancer screening programmes, Cancer Registries, Quality Assurance Reference Centres, Strategic Health Authorities, Specialised Commissioners and parts of the Department of Health, including Public Health Marketing.
Public Health England Press Office
Tel: 0208 327 7901
Out of hours: 0208 200 4400

Published 25 March 2013