World news story
Long Museum will play host to the GREAT Festival of Creativity
The Long Museum in Shanghai, China has been announced as the official venue for the GREAT Festival of Creativity on 2 to 4 March 2015.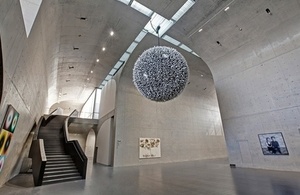 Madame Wang Wei along with Consul General, Brian Davidson were both present on 26 December 2014 to exchange contracts in what is an important step in the build up to the Festival.
The UK's creative industries are now worth £71.4 billion per year to the UK economy. This industry possesses enormous opportunities for Chinese and British business to forge new partnerships and use creativity to innovate and grow together.
Speaking at the Long Museum Brian Davidson said:
Choosing this as the venue for the GREAT Festival was an easy choice in the end as the UK and China needed somewhere really special to allow for creative exchanges between two of the world's largest economies.

The setting on the West Bund area and the attractive space on offer will play home to up to 2500 British and Chinese business leaders between 2 March to 4 March, 2015.
The GREAT Festival of Creativity seeks to bring together guests from enterprising and inventive companies and business to build connections and develop partnerships in various channels. Through keynote talks, seminars and workshops, interactive showcase, performances and receptions, the GREAT Festival will visualise the best of Great Britain's world leading creativity and inspire the surge of thoughts on creativity shaping the future world.
Royal visit
Just last month Kensington Palace announced that HRH The Duke of Cambridge will officially open the GREAT Festival of Creativity. This is the first senior Royal visit to China in quite a long time.
Long Museum
The Long Museum was founded by Chinese couple collectors, Mr. Liu Yiqian and his wife, Ms. Wang Wei. As the largest private institution of collection in China, the Long Museum boasts the richest collection nationwide.
Contacts
Contact the UKTI team in China for more information and advice on opportunities for doing business in China.
Published 31 December 2014