London Conference on Somalia: Full coverage
The London Conference on Somalia takes place today. Foreign Ministers from around the world are attending, including both the President and Prime Minister of Somalia. See our coverage and join the debate.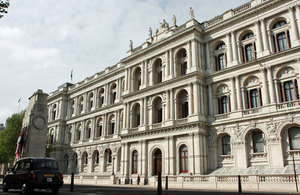 The UK's primary objective in Somalia is to seek a lasting political solution that will bring peace and security to the country, and reduce threats to the UK. With engagement from attendees at the highest level, the conference will agree a series of practical measures to support Somalia.
Following his visit to the country, Foreign Secretary William Hague described Somalia as the world's worst failed state.
Speaking ahead of the conference the Foreign Secretary said that the aim is to agree a series of practical measures to support Somalia and to help the country get on its feet:
"We are realistic - Somalia's problems cannot be solved in a day, but its people deserve a better future, and our own security requires their country to become more stable."
Conference aims and information
News & Speeches
Social media
Pre-Conference news
Published 23 February 2012