Press release
London College of Fashion wins Prime Minister's Big Society Award
London College of Fashion is the latest winner of a Big Society Award, Prime Minister David Cameron has announced.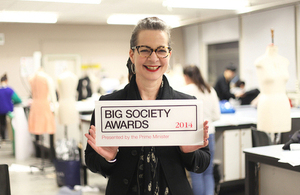 London College of Fashion is the world's oldest fashion educational institution. The College has been recognised for its innovative 'Fashion Education in Prisons' project which sees fashion students work with offenders on an innovative magazine which helps boost skills and support rehabilitation.
The project, funded by the Sir John Cass Foundation, brings together 11 London College of Fashion students and serving female offenders at HMP Send, Surrey, who over the course of 10 weekly workshops, produce a unique magazine for prisoners - 'The Beauty's Inside'.
Working on the magazine, which features writing, photography and illustration created by the offenders, gives the women opportunities to learn new employment skills supporting their rehabilitation back into society. So far 4 have applied to further or higher education upon their release with 1 applying to London College of Fashion. The finished magazine is sent to HMP Maidstone to be produced in their printshop.
The Beauty's Inside initiative is part of London College of Fashion's wider commitment to the rehabilitation of offenders and was inspired by the college's 'Better Lives' ethos that fashion can challenge social, political and ethical agendas and drive change.
Prime Minister David Cameron said:
The time and energy London College of Fashion students and staff have devoted to this project has given female offenders an opportunity to gain real transferable skills to help them rebuild their lives outside prison.

I'm pleased to recognise the work of Fashion Education in Prisons with this Big Society Award.
Professor Frances Corner OBE, Pro-Vice Chancellor of UAL and Head of London College of Fashion said:
We are very pleased that our work with HMP Send has been recognised in this way. At London College of Fashion we believe that fashion is a transformative force that can be used to drive change and improve lives and this initiative has greatly enhanced both our students' learning experience and the confidence and self-esteem of the inmates involved.
Kevin Everett, Treasurer and Chairman of Sir John Cass Foundation said:
Prisoner education is an integral part of the Foundation's Grants Strategy and is 1 of our top priorities. We have been more than happy to support this project from its inception and are delighted to have seen the real and significant difference it has made to the lives of the women involved. We hope the outcomes of the project will become even more apparent in years to come.
Published 24 March 2014