Press release
Local support announced for jobseekers to help prepare for Universal Credit
Jobseekers to get extra help to get online and manage their finances on a monthly basis to prepare for the world of work under Universal Credit.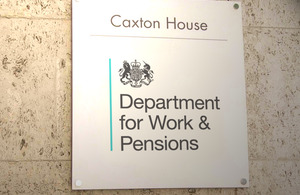 Today (10 July 2014) the Minister for Welfare Reform announced, to the Local Government Association conference, a series of new trials to help claimants get ready for Universal Credit along with the 11 partnerships that have successfully bid to deliver this local support.
The trials will be partnerships between jobcentres and local authorities across Great Britain. They will look at the best way to prepare claimants for the world of work by helping them with online access and digital support, and managing their finances on a monthly basis.
As part of the government's long-term economic plan, Universal Credit makes the welfare system simpler by replacing 6 benefits and tax credits with a single monthly household payment. It includes support for the costs of housing, children and childcare, as well as support for disabled people and carers.
Each trial will be different, tailored to local needs and local authorities will be supported by third sector organisations, voluntary groups or social landlords.
Minister for Welfare Reform Lord Freud said:
Through Universal Credit we are empowering people to escape the benefits trap. But we know that for some vulnerable people additional support is needed to help them manage their lives to prepare for the transition into work. That is why today we are announcing the next steps for trialling local support, delivered in partnership with local authorities to support those with more complex needs.

The successful bidders, announced today, will prepare claimants for Universal Credit by offering tailored local support to budget, access housing support and promote digital inclusion.

We have been committed to working in partnership with local authorities throughout the roll-out of Universal Credit and continue to build on these valuable relationships in the existing sites.
The help proposed by local authorities includes:
referring claimants from jobcentres to a hub of local services to support the most vulnerable throughout their journey
setting up a network of mentors and provide coaching to claimants to help them manage their finances online
improve access to debt management advice and to local credit unions
support around accessing housing options and drug and alcohol treatment
Universal Credit is now available to claimants in 24 areas of England, Scotland and Wales, providing people with stronger incentives and support to get into work and earn more money. By the end of 2014 1 in 8 Jobcentres in Britain, will offer Universal Credit.
The trials will help to shape the final framework which will be published in the autumn of 2015.
More information
Read Lord Freud's speech.
The Local Authorities chosen to deliver support are:
Derby City , Islington, South Staffordshire, West Lindsey, Argyll and Bute, Dundee City, Blaenau Gwent, Carmarthenshire and joint bids from Lambeth, Lewisham and Southwark, Northumberland and South Tyneside and Westminster and the Royal Borough of Kensington and Chelsea.
The initial local support services frame work was published in February 2013.
An update was then published in December 2013.
Contact Press Office
Media enquiries for this press release – 0203 267 5107
Press Office
Caxton House
Tothill Street
London
SW1H 9NA
London Press Office (national media and London area enquiries only – not questions about personal claims) 020 3267 5144
Out-of-hours (journalists only) 076 59 108 883
England and Wales (local media enquiries) 029 20 586 then 097 or 098 or 099
Scotland (local media enquiries) 0131 310 1122
Follow DWP on:
Published 10 July 2014