Local public health intelligence online community
Keep up to date with local health intelligence: join our community on Knowledge Hub.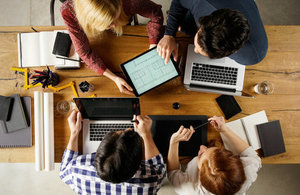 Public Health England (PHE) is piloting an online space on Knowledge Hub to share information about local knowledge and intelligence products and services. Our Local Knowledge and Intelligence Service (LKIS) will run the space.
Knowledge Hub gives PHE in each geographical PHE Centre location, a way to make it easier for local partners to keep up to date with the relevant health intelligence relating to their area, and to take part in discussions.
Public health observatory websites are being archived. We have talked to users and identified Knowledge hub as part of the solution to sharing information.
The content includes:
information about our local knowledge and intelligence service including local health intelligence reports and analysis, newsletters and signposting guides
the potential to participate in discussion forums and share information
links to other PHE intelligence tools and resources
We have also improved content on GOV.UK about PHE centres, the local presence of PHE.
If you want to join Knowledge Hub, you'll need to open an account first then find and register with your local group below:
What's next?
PHE is looking to develop the content of the local knowledge hubs to include information on broader public health themes.
The former Public Health Observatories are in the process of being archived, and a snapshot will be available through UK government web archive when this process is completed.
We will be undertaking further work about transitioning national health intelligence content on the old PHO websites such as health economics, mental health, cardiovascular and child and maternal health.
Published 3 February 2017