News story
Local hypertension profiles launched
Public Health England's National Cardiovascular Intelligence Network has launched a series of hypertension profiles.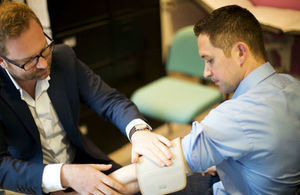 Today (18 January 2016), the Public Health England (PHE) National Cardiovascular Intelligence Network (NCVIN) and blood pressure team, have launched a series of hypertension (high blood pressure) profiles for each clinical commissioning group (CCG) and lower tier local authority.
The hypertension profiles show each local authority how well it is doing in detecting and treating high blood pressure by comparing its performance with that of similar authorities and with the rest of England.
The PDF resources point to PHE's Tackling high blood pressure from evidence to action plan with conclusions and suggestions on how to tackle and prevent high blood pressure. It also highlights approaches that can be taken to improve performance and outcomes for each local population.
High blood pressure is one of the leading risk factors for premature death and disability, and can lead to stroke, heart attack, heart failure, chronic kidney disease and dementia. Conditions caused by high blood pressure cost the NHS over £2 billion every year. By reducing the blood pressure of the nation as a whole, £850 million of NHS and social care spend could be avoided over 10 years.
We know from international comparison that there is significant scope for improvement: in Canada, for example, 7 out of every 10 adults with high blood pressure are both diagnosed and managed to recommended levels whereas in England we only achieve this in 4 out of 10.
Lorraine Oldridge, Director of NCVIN, PHE, said:
We're proud to be launching these profiles in order to help lower the prevalence of high blood pressure which still remains a public health problem across all regions in England. By providing hard data local authorities can see how they compare to nearby regions and set new targets to reduce their levels of hypertension amongst their population.
Jamie Waterall, Chair of the Blood Pressure System Leadership Board, PHE, said:
High blood pressure is currently the leading global risk factor for premature death and ill health. Our evidence into action publication sets out a strong case for why England should prioritise the prevention, detection and management of this largely preventable condition.

This new resource will be hugely important in allowing local teams to understand their data and help develop much needed local action plans for tackling high blood pressure.

Improving take-up of the NHS Health Check, a systematic risk assessment and management programme for 40 to 74 year olds, offers a major opportunity for increasing the detection and management of undiagnosed hypertension.
The regional hypertension profiles are available to to view or download.
Published 18 January 2016