Local experts to map true scale of rough sleeping
Changing the way rough sleeping is monitored across the country.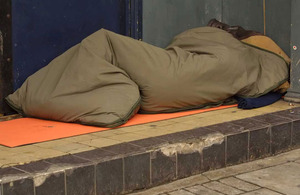 Councils and local homelessness charities will use their local knowledge to more accurately assess the number of rough sleepers in their area, after the Housing Minister Grant Shapps today (14 September 2010) overhauled the way rough sleeping is monitored across the country.
Previously, only councils in presumed hotspot areas were required to conduct official rough sleeper counts - meaning that only 70 councils submitted information to central government. So under this method, figures published in July showed that on any given night there were just 440 rough sleepers in England.
However, for the first time areas which did not physically count were asked to provide estimates this spring and when the figures from these 256 councils were included a further estimated 807 rough sleepers were found - taking the national total to 1,247 rough sleepers on any given night. Considerably higher than the 440 previously thought.
So, after consultation with homelessness charities and council, all councils across England will now provide information on rough sleeping. The aim of this is to get a clearer picture of the scale of the problem in each area so more targeted support can be provided to some of the most vulnerable in society.
Where a council decides not to conduct an official count they will submit a robust estimate of the number of people rough sleeping on their streets on a typical night - consulting with and gathering information from homelessness charities and agencies working in their area.
But where there is a more significant problem this will be done by street counts with representatives of Homeless Link, the national charity for all homelessness agencies, attending counts rather than government officials as under the old system. This will help ensure those working directly to help people off the streets can best offer their expertise and advice.
Housing Minister Grant Shapps said:
"For too long a supposedly national figure of rough sleepers hasn't reflected the reality on our streets. Councils and local charities know their areas best. That's why I am putting them centre stage in assessing the true scale of the problem they face locally. By having accurate numbers and a better national picture of the problem - we can start to help the homeless much more effectively.
"But this isn't just about crunching numbers - I want this problem to be treated with the seriousness it deserves. That is why I've brought ministers from across 8 government departments together so that the needs of the homeless across the whole country are being met not just in terms of housing, but in also employment, training, rehabilitation and healthcare."
For more information, see Evaluating the extent of rough sleeping.
Published 14 September 2010