Local authorities setting standards as Open Data Champions
Local and regional councils have been recognised by Cabinet Office as leading the way in open data and transparency.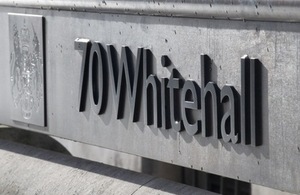 Sixteen local and regional authorities that are setting the standard in open data and transparency have been recognised as Open Data Champions by Minister for the Cabinet Office, Francis Maude.
The Open Data Champions took part in a roundtable event on 24 March 2015 which brought together leaders and CEOs from these authorities to explore the role of open data in the 'local authority of the future.' The Champions are putting data back into the hands of citizens and communities to create opportunities for innovation, economic and social growth and better public services.
The government has established itself as a world leader in transparency and harnessing digital technology. It has been ranked 1st by Sir Tim Berners-Lee's World Wide Web Foundation for Open Data and co-founded the D5, a group of the five leading digital governments.
Francis Maude also launched 2 sets of principles to improve the transparency of government contracts. These principles, which all central government departments will follow, set a presumption in favour of disclosure, encouraging greater consideration of the information that should be made available when government contracts with a supplier. Only information that would genuinely affect a supplier's or the government's commercial position should be withheld.
The government will also expect greater transparency and openness in its dealings with its biggest suppliers. These suppliers will now be asked to provide revenue and margin information on the government contracts they hold over a value threshold.
Francis Maude also announced the appointment of Mike Bracken as the first ever Government Chief Data Officer, alongside his Government Digital Service role. He will be responsible for developing a new Government Data Standard, championing open data, and encouraging the use of data in the decision-making process. He will lead on developing greater data analysis skills and capability across government.
The Cabinet Office also announced an update on the National Information Infrastructure. Though support from the Department for Food, Environment and Rural Affairs, the Department for Transport, the Department of Health and the Health and Social Care Information Centre the NII will move from being a static inventory of government data, to a living hub. It will ensure that the most important data that government holds is constantly updated and that everyone can access it in a usable format. From the summer, government will also start making more NII datasets available through APIs - so businesses and others can get updates automatically, and in real time.
Minister for the Cabinet Office, Francis Maude said:
Transparency is an idea whose time has come. Open data helps sharpen accountability, support economic growth, and inform choice over public services. The potential rewards are enormous – smarter, more responsive and more cost-effective public services – and Britain is now consistently ranked first for openness. These Open Data Champions are another way we are placing transparency at the heart of our long-term economic plan.

I'm delighted to announce that Mike Bracken who has spearheaded this government's digital revolution will also become the Government's Chief Data Officer. He is the ideal person to take our already world-leading approach to open data even further, while strengthening data analysis skills in Whitehall.
Open Data Champions
The Open Data Champions are:
Barnet
Birmingham
Bristol
Cambridgeshire
Devon
Glasgow
Hampshire
Lambeth
Leeds
London
Manchester
Windsor & Maidenhead
Redbridge
Sunderland
Surrey
Trafford
Published 24 March 2015