Press release
Llangollen Eisteddfod puts Welsh culture in the global spotlight
David Jones to visit 68th annual Llangollen International Musical Eisteddfod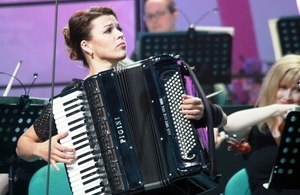 Secretary of State for Wales David Jones MP will highlight the contribution the Llangollen International Musical Eisteddfod makes to putting Welsh culture on the map when he visits the annual event today (Friday 11 July).
Mr Jones will take up the role of Day President and will deliver a speech to mark the importance of the festival to Wales's cultural and economic life.
He will also take the opportunity to see the performances of musicians and dancers who have travelled from across the globe and visit a host of exhibitors across the maes.
David Jones said:
Llangollen has long been known as the town where Wales welcomes the world every year. As a long-standing supporter of the Eisteddfod, I'm delighted and honoured to be attending this year's event as Day President.

As Wales prepares to host the NATO summit in September, the International Eisteddfod provides us with another important opportunity to reach out to audiences across the globe and showcase Wales's rich offer and embed it within other visiting nations.

Over its 68-year history, the Eisteddfod has established itself as one of the jewels in Wales's cultural crown, I wish it many more years of success.
Published 11 July 2014