Press release
Liverpool Cenotaph gets Grade I listed status
Maria Miller announces plans to list thousands more war memorials.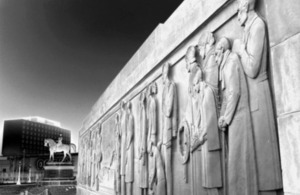 Culture Secretary Maria Miller announced today that the Liverpool Cenotaph, built to commemorate those who lost their lives in the First World War, is to be listed at Grade I making it one of only three Grade I war memorials in the country.
Mrs Miller, who leads on the government programme to mark the centenary of the First World War next year, also announced that English Heritage intends to list up to 500 war memorials a year over the next 5 years. And she is calling on the public to nominate their local memorials to be considered for listing.
It isn't known how many war memorials there are, so widespread was the nation's grief. With only 1,300 examples currently on the National Heritage List for England, however, it is believed that less than 10% of free-standing war memorials are presently listed. Maria Miller said:
This centenary comes at a point where living memory becomes written history, so it is absolutely essential that our work to mark it speaks clearly to young people in particular. War Memorials are a precious part of our heritage that keeps alive the ultimate sacrifice that so many made. It is absolutely right that we cherish and protect them, and I welcome English Heritage's initiative in launching this project today.
The Liverpool Cenotaph has great historic significance in illustrating the effort and sacrifice of the city of Liverpool and the heroism of those who fought in the First World War. Its location, on the forum-like space known as the Plateau, adjacent to the Grade I listed St George's Hall, one of the most important civic buildings in Europe, made it the perfect location for Armistice Day services after the war and it continues as the focus for Remembrance Sunday services today.
Maria Miller continued:
Whether we have relatives whose names are on local memorials, or who fought alongside those who died, we all have a connection with remembrance. I would urge everyone to make sure their local memorial is in good condition. If it isn't, then English Heritage, the War Memorials Trust and the Heritage Lottery Fund all have grants and advice available. English Heritage will be working with the War Memorials Trust and others to ensure that all war memorials are properly recognised and cared for, and encouraging volunteers to get more involved than ever before in the designation process.
We know there is a dedicated volunteer movement which devotes itself to this topic: I am keen to work with this, and draw on their knowledge and enthusiasm.
Listing the country's war memorials is one of several English Heritage projects which will research and record for future generations the as yet unknown or little known impact of the First World War on the buildings and landscapes of England.
Roger Bowdler, Designation Director at English Heritage, added:
The Liverpool Cenotaph is a remarkable monument, combining the highest quality of design and artistry with a dignified and painfully poignant memorial to the losses suffered by the people of Liverpool. It fully deserves this designation at the highest grade.
Researching, recording and recommending up to 2,500 more war memorials for listing over the next five years is a major task but one that English Heritage is proud to undertake. These memorials will gain a place on the National Heritage List for England to tell the story of this country's sacrifice and struggle.
Notes to Editors
On 4 August 2014 it will be 100 years since Britain entered the First World War. Within government the Department for Culture, Media and Sport is leading plans to build a commemoration fitting of this significant milestone in world history. As the Prime Minister made clear when he launched the programme in October 2012, the main theme will be remembrance with a particular focus on bringing the centenary alive for young people. There will be a number of national events across the four years, as well as cross-Government programmes.
The Liverpool Cenotaph was listed at Grade II in 1952 but English Heritage has reassessed its architectural and historic significance and believes it should be recognised as one of the most important war memorials in the country. Grade I buildings are of exceptional interest, sometimes considered to be internationally important; only 2.5% of listed buildings are Grade I. The only other two Grade I war memorials are in Victoria Park in Leicester, first listed in 1955 and the Cenotaph in Whitehall, first listed in 1970. Both were designed by Sir Edwin Lutyens. The Liverpool Cenotaph was designed by Lionel Budden with sculptural work by Herbert Tyson Smith and unveiled in 1930. In the form of a vast altar, it is decorated with bronze reliefs which are among the finest responses to remembrance ever created. One depicts massed ranks marching off to war. The other, unflinching in its depiction of the scale of loss and grief, shows row upon row of gravestones melting away into the distance and towards eternity; mourners in contemporary dress pay their respects, their solemn faces downcast and an elderly man stifles a sob.
A full description of the Liverpool Cenotaph is available from English Heritage at the contact number, below. View photographs For further press information on this or any aspect of English Heritage's First World War projects, please contact: Maddy Wall – English Heritage Communications - 0207 973 3252/0782 440 7310
English Heritage - First World War Home Front
Published 10 November 2013