News story
Liverpool based agency leaves workers all at sea
Susan Myers (nee Leach), a Director of Relay Marine UK Ltd, pleaded guilty for withholding pay, totalling around £21,000, from four workers.…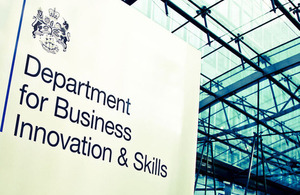 Susan Myers (nee Leach), a Director of Relay Marine UK Ltd, pleaded guilty for withholding pay, totalling around £21,000, from four workers. EAS found that Susan Myers either failed to make full payment to the workers or failed to pay them at all.
Minister for Employment Relations Norman Lamb said:
"Today's result sends out the message loud and clear that we continue to take action against rogue recruiters who flout the law.
"I am pleased to say that most agencies play fairly. It's only the minority who continue to ignore their responsibilities - but they undermine the system for the rest and we will take action against them."
**
Notes to Editors **
---
The Employment Agency Standards inspectorate is part of the Department for Business, Innovation and Skills. The Inspectorate carries out inspections of agencies on the basis of perceived risk of non-compliance and investigates complaints about agency conduct.
Agencies that break the law could face prosecution and be subject to unlimited fines for the most serious offences. Rogue agencies could also be banned from operating for up to ten years.
Guidance for agency workers can be found on [http://www.direct.gov/agencyworkers](http://www.direct.gov/agencyworkers). Guidance for employment agencies can be found at [http://www.businesslink.gov.uk/employingpeople](http://www.businesslink.gov.uk/employingpeople)
The inspectorate carries out regular targeted investigations. Recent investigations were carried out in Swansea as joint exercises with the H M Revenue and Customs National Minimum Wage Enforcement Team.
Mrs Myers pleaded guilty on 30 April 2012 to 4 charges of withholding wages from workers contrary to Regulation 12 of the Conduct of Employment Agencies and Employment Businesses Regulations 2003 and section 5(2) of the Employment Agencies Act 1973.
BIS's online newsroom contains the latest press notices, speeches, as well as video and images for download. It also features an up to date list of BIS press office contacts. See [http://www.bis.gov.uk/newsroom](http://www.bis.gov.uk/newsroom) for more information.
Notes to Editors
Contact Information
Name BIS Press Office Job Title
Division Department for Business, Innovation & Skills Phone
Fax
Mobile
Email bispress.releases@bis.gsi.gov.uk
Name Henry Tanner Job Title
Division Department for Business, Innovation and Skills Phone 020 7215 5947 Fax
Mobile
Published 1 May 2012