World news story
Live streaming of British Embassy San Jose's Business and Human Rights forum
The event can be followed via the live stream link: www.ulatina.ac.cr/servicios-estudiantiles/canal-de-streaming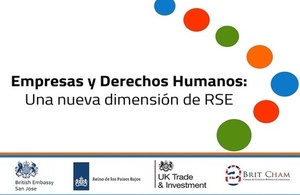 On September 4, 2014, from 8:00am, the British Embassy San José and the Embassy of the Netherlands will host the forum "Business and Human Rights: A New Dimension in Corporate Social Responsibility (CSR)" at the Crowne Plaza Hotel in San José, Costa Rica.
The event can be followed via this live stream link
National Action Plan
United Kingdom and Holland have been pioneers in the area of corporate social responsibility and were the first two countries to create a national action plan based on the Guiding Principles on Business and Human Rights, established by the United Nations in 2011. The Guiding Principles urge the State to protect, and businesses to respect human rights by measuring and mitigating their impact on the environment, actively managing their supply chains and playing a responsible role in society.
It is important to underscore that fact that the national action plan is a complement to corporate social responsibility (CSR), which focuses on generating economic benefits in harmony with human rights and the environment. More and more, companies are recognising the importance of CSR and the advantages that it can create, such as reduction in costs, greater productivity and a better reputation.
The Forum
The forum's objective is to foster debate on the relationship between business and human rights, as well the Costa Rica's future vision for this subject. The United Kingdom and Holland will share their experiences in these areas with government representatives, businesses and civil society, and examples of successful local business cases will be presented.
The forum will bring together a group of experts in the field of CSR, among them Mr Philip Green, Special Advisor to British Prime Minister David Cameron in the area of CSR; Ms Ana Cristina Trejos, Costa Rican Vice Minister of Housing and Ms Silvia Lara, Executive Director of the Business Development Association.
Respecting human rights
According to British Ambassador, Sharon Campbell, "Today, more than ever, we recognise the need to make human rights an integral part of both the business strategy and the organisation's culture. This forum represents an opportunity for dialogue among members of government, the private sector and civil society. I hope it also helps to drive concrete actions that will advance the agenda on business and human rights.
Dutch Ambassador, Mette Gonggrijp, stated that "Development should go hand in hand with human wellbeing and sustainability. We want to call on companies to incorporate CSR, not just from the standpoint of what the consumer wants, but to offer quality products and services, produced sustainably, respecting human rights. This should be the norm and not the exception. It is therefore important that the government supports and motivates companies to follow that line. In the long term, this will be reflected in consumer tendencies."
The forum will conclude with a press conference.
Published 3 September 2014
Last updated 3 September 2014
+ show all updates
Added translation
First published.