Press release
Lincolnshire removal man to pay £2,820 for illegally storing waste
A Lincolnshire man has been ordered to pay £2,820 after the Environment Agency prosecuted him for illegally storing waste.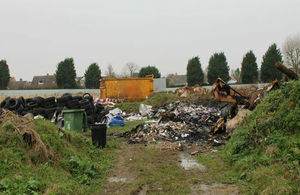 33-year-old Steven Peter Marriott of Broxholme Gardens, Lincoln, operating as Marriott's Removals, was handed the penalty by Lincoln Magistrates' Court on Wednesday, 27 July. The court found that he'd broken the law by depositing and storing waste without the required environmental permit.
Magistrates heard the waste was discovered by Lincolnshire Fire and Rescue in November 2014 on a field Mr Marriott was renting off Ryland Road, near Dunholme.
The Environment Agency was alerted and officers found more than 200 tyres, along with TV sets, fridge and freezer units, building rubble, oil containers, a lead acid battery and other items on the site.
Officers advised Mr Marriott that he was committing an offence by carrying out waste operations at the site without an environmental permit. He was told to stop operating and remove all the waste from the field.
During the investigation, also it came to light that Mr Marriott was not a registered waste carrier, so he was advised of the relevant requirements.
In an interview with officers, Mr Marriott admitted depositing the waste but said he was unaware he was breaking the law. Over a period of months, he stated that he would remove the waste – however, Environment Agency officers found there had been no change on multiple return visits.
An enforcement notice was served in May 2015, requiring all the waste to be removed within a month, but it was still there when environment officers visited in June 2015.
Marriott was found guilty of breaching the Environmental Permitting (England and Wales) Regulations 2010. He was fined £1,200 and ordered to pay a contribution to costs of £1,500 plus a victim surcharge of £120.
Debbie Sylvester, Enforcement Team Leader at the Environment Agency, said:
We regulate waste activities to make sure the environment and local communities are protected from potentially harmful substances, smell and litter from waste sites.
We'd remind all companies that move or store waste that they must have the correct permits – and we will take action against those that don't.
Unregulated waste can be an eyesore and can be dangerous to the environment and human health. More information on environmental permitting is available on our website here.
Ends
Notes to editors:
Charge: Between 16 November 2014 and 17 March 2016, on land off Ryland Road, Dunholme, Lincolnshire at National Grid Reference TF 01946 79675, you did operate a regulated facility, namely a waste operation for the deposit and storage of waste, without being authorised by an environmental permit granted under Regulation 13 of the Environmental Permitting (England and Wales) Regulations 2010. Contrary to Regulation 12(1)(a) and 38(1)(a) of the Environmental Permitting (England and Wales) Regulations 2010.
The court heard that at the time of the offence the cost of a standard environmental permit for this type of operation, provided the correct infrastructure was in place, would be a minimum of £1,630 application fee and £2,490 per year subsistence fee.
Published 28 July 2016