Lincolnshire flag flies at Department for Communities and Local Government
The flag representing the historic county of Lincolnshire has been hoisted above the department's offices.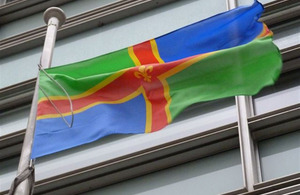 To celebrate the important place counties play in the nation's cultural heritage Secretary of State Eric Pickles has asked that English county standards be flown alongside the Union Flag outside DCLG's Eland House headquarters in Victoria.
Mr Pickles raised the first flag - for his adopted home county of Essex - in a ceremony also attended by celebrity astrologer and long-time English county campaigner Russell Grant.
Flags are being flown for a week at a time in alphabetical order or - in cases such as Cornwall and Yorkshire - to coincide with particular county days.
Eric Pickles said:
The Union Flag rightly has pride of place outside the department but I'm delighted it will now be flown alongside our traditional and ceremonial county flags.

England's counties continue to form an important part of our cultural and local identity in this country and many people remain deeply attached to their home county - both the traditional 'cricket' counties and in some cases their more modern administrative successors. This sense of pride and shared identity is 1 of the things that binds communities together and it's right that the government department responsible for communities and local government should be actively recognising the important role they play.
Lord Lieutenant of Lincolnshire, Mr Tony Worth, said:
Lincolnshire is home to an original copy of the Magna Carta of 1215, and is the birthplace of Isaac Newton, Joseph Banks, Matthew Flinders, George Bass, Alfred Lord Tennyson, Margaret Thatcher and the Pilgrim Fathers. The first tanks were designed and built in Lincoln in World War I and Lincolnshire was 'Bomber County' during World War II with over 3,000 aircraft losses from 28 airfields.

Today, the county is still home to the RAF with 6 operational bases including the RAF College at Cranwell and the famous Red Arrows. Lincolnshire is built on its proud history and is famous for its agriculture and food production; for the Lincoln Red Shorthorn cattle and the Lincoln Long Wool sheep; for Lincolnshire Poacher cheese; and the largest port for bulk cargoes in the UK.
Leader of Lincolnshire County Council, Councillor Martin Hill, said:
Lincolnshire's flag celebrates the diversity of our culture and geography. Green fields, open space, blue skies and wide expanses of coastline are distinctive to our county and our flag represents all of these features. The Fleur de Lys represents the administrative centre of Lincoln, which boasts one of the finest cathedrals in the world. This week a little bit of Lincolnshire's lifestyle will be flying proud for Londoners to admire.
Further information
The department is obliged to fly the European Union flag during Europe Week (week beginning 9 May) under Article 7(2) of EC Regulation 1828/2006.
The Lincolnshire flag has been kindly loaned by the Association of British Counties at no charge.
Photographs of the county flags will be added to the DCLG Flickr channel
Published 7 February 2011