Press release
Lincolnshire businesses shaping rural policy on Government rural roadshow
First of the Rural Roadshows, allowing Defra ministers to listen to issues and concerns of rural communities and businesses.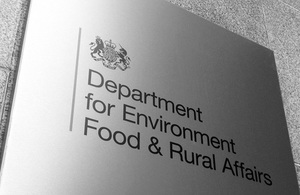 Lincolnshire's businesses are being given the opportunity to help shape rural policy today as Defra minister, Lord Taylor of Holbeach is in the region to hear about the issues they face.
This is the first in a series of Rural Roadshows taking place over the summer for Defra ministers to listen to issues and concerns of rural communities and businesses to ensure their voice is heard within Government.
Lord Taylor will meet the Chair of the local Rural and Farming Network, set up to help Government make policies more rural-friendly, and the Local Enterprise Partnership to get valuable insights into rural businesses' needs.
Environment Minister, Lord Taylor of Holbeach said:
"I'm looking forward to visiting businesses in Lincolnshire today so that I can understand better the opportunities and challenges around running a business in a rural area.  I'll take their insights back to Government to help ensure that all policies meet the needs of rural communities and businesses."
Mark Tinsley, Chair of Lincolnshire Forum for Agriculture and Horticulture, said:
"We welcome Lord Taylor's visit. He is well aware of the pressures on the food packing and processing businesses in South Lincolnshire. We look forward to discussing how we might strengthen that part of the produce supply chain, working very closely with Defra as one of its Rural and Farming Networks."
Lord Taylor is today opening a new factory that is creating 30 jobs in a rural area as well as doubling the plastic bottle recycling capacity of the UK.  The £15 million venture by Coca-Cola, WRAP and ethical plastic bottle recycle, ECO Plastics will be the world's largest plastics reprocessing facility.
Environment Minister Lord Taylor of Holbeach continued:
"With the opening of this facility, the UK is now home to the world's largest plastics recycling plant, bringing jobs and growth to the rural economy of Lincolnshire.  Coca-Cola, WRAP and ECO plastics innovation and investment has made this project a reality - exactly what we want to see more of right across the country.
"Recycling is a growing industry, and investment in these types of projects not only makes good business sense - it will help us achieve our ultimate aim of a zero-waste green economy."
As the second round of a £20 million grant scheme for rural businesses is announced, Lord Taylor is seeing how Lincolnshire businesses have already transformed their prospects with funding from Defra's Rural Development Programme for England.
Defra's £500,000 investment has enabled Fold Hill Foods in Boston to increase sales, cut waste and packaging and expand the market for local arable farmers, who supply the grain for the company's pet food.
Lord Taylor will also visit Lansen Nursery, which has just been approved a £25,000 grant to fund pipes and water collection facilities that will reduce reliance on mains water for the irrigation of plants.
Lord Taylor continued:
"Our £100 million grant scheme has transformed thousands of rural businesses with higher turnover, job creation and greener ways of working.  I'm interested to see how our investment has brought new prospects to businesses in Lincolnshire."
Lord Taylor will meet award-winning 2009 Farmer of the Year Andrew Dennis, whose organic vegetable boxes are delivered to the local community, and visit Lincolnshire Field Products, producer and distributer of fresh produce.   The Government is encouraging people in rural communities to 'Eat, Drink and Be Local' as local food enterprises act as hubs for the whole community and foster a positive image for locally produced food.
The Government is delivering a £165 million package of measures to maximise the economic potential of rural communities announced in the Rural Economy Growth Review. 
As part of this investment, the second round of the Rural Community Broadband Fund opened today to give communities in the remotest areas opportunities to transform their businesses through superfast broadband.
Notes
Applications for Defra's Rural Development programme for England Forestry and Farming Improvement Scheme open on May 22 and close on July 17.
Applications for the Rural Community Broadband Fund open today (May 10) and close on July 6, while applications.The £20 million Rural Community Broadband Fund is jointly funded by Defra and Broadband Delivery UK and is being delivered through the Rural Development Programme for England (RDPE). It enables the funding of superfast broadband projects in the most hard to reach areas in England.  More information about the Fund and details on how to apply can be found on Defra's RDPE Network webpage http://rdpenetwork.defra.gov.uk/funding-sources/rural-community-broadband-fund.
ECOPlastics won £1.12 million pounds in infrastructure support from WRAP (Waste & Resources Action Programme) in January 2012.
Published 10 May 2012