Light Dragoons soldiers welcomed home from Afghanistan
Overjoyed family and friends welcomed home 45 members of the Light Dragoons to Robertson Barracks in Norfolk last night as they returned from operations in Afghanistan.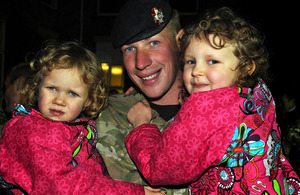 The regiment, nicknamed 'England's Northern Cavalry', deployed over 320 soldiers to Afghanistan in March. The final eight soldiers will return home on Wednesday, 7 November.
There to welcome Trooper Liam Brook home was his wife, Emily, and six-month-old son Bradley. He said:
It's just a massive relief to be home. Our job is done, it's now time to sit back and chill out. I'm looking forward to spending time being a dad. I can't believe how much he's grown.
Emily said:
It's been hard, but I've been so busy with the baby, I really haven't had time to think. I'm just glad to see him home.
Leila Price and her five children were there to meet husband and dad Trooper Daniel Price.
Leila now plans to have a full day in bed whilst Trooper Price looks after Skye, aged 5, Lexi, 3, twins Libbey and Kiera, 21 months, and 9-month-old Melody.
Trooper Price said:
I'm absolutely buzzing. I'm really happy. I can't wait to spend time with my family, that's what's most important.
Another father who returned home last night was Sergeant Paul Martin. This was his first tour away as a father:
It's brilliant to be home," he said. "It was hard being away, Gracie has changed loads. I missed her birthday, which was very hard, and she is too young to understand why daddy has gone away.
His wife, Danielle, said:
It was hard whilst he was away, but I did have lots of support which made it slightly easier. It's just a relief to have him home.
The Light Dragoons had a number of different roles in Afghanistan. The soldiers from A Squadron acted as the eyes and ears of 12th Mechanized Brigade and also provided route security for convoys.
D Squadron delivered training and mentoring support to the Afghan National Police Force and were later augmented by members of A Squadron.
Their fellow Light Dragoon sister unit, B Squadron, was part of the Brigade Reconnaissance Force which acted on military intelligence to remove key insurgency equipment and personnel from the area of operations.
Here in the UK, C Squadron was the Rear Operations Group, ensuring that the families remaining behind were given the very best welfare support and that individual soldiers were fully prepared to deploy if needed.
Described by the Commanding Officer, Lieutenant Colonel Sam Plant, as a successful tour, the Light Dragoons carried out some 248 operations, searched 1,700 Afghan compounds and discovered over three tonnes of homemade explosives and significant quantities of other bomb-making equipment.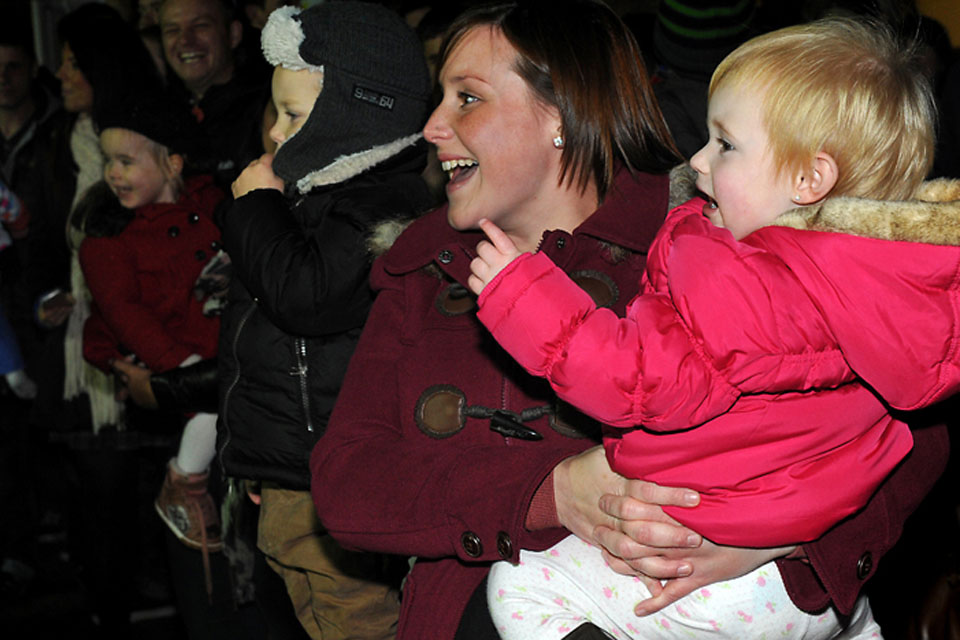 Lt Col Plant said:
The extraordinarily high tempo of operations contributed significantly to this summer's success in preventing a meaningful insurgent offensive and provided the time and space for the Afghan National Security Forces to continue to develop and flourish.
He continued:
The soldiers of the Light Dragoons once again demonstrated the bravery, resilience, professionalism and determination that allowed them to succeed in the most austere of conditions.
Sadly, military success came at some cost. The loss of Sergeant Lee Davidson hit us all hard and we will remember him forever. Equally there have been casualties throughout the tour and our support to them will remain a priority.
This was the regiment's fourth tour of Afghanistan, having had squadrons deployed in 2006, 2007 and 2009.
To mark their return home, the Light Dragoons will conduct homecoming parades in Barnsley on 13 November and Newcastle on 16 November.
The regiment will also parade in Dereham on 5 December, followed by a thanksgiving service at St Nicholas Church.
Published 5 November 2012