Life in a busy press office in Kosovo
The Stabilisation Unit's Nick Hawton describes a career change which saw him go from BBC foreign correspondent to deputy head of the EULEX Press Office in Kosovo.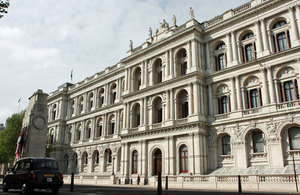 It was a big decision to make. Having spent more than ten years working for the BBC, most recently as a foreign correspondent in the Balkans, joining the EU would mark a major change in career direction. I would be working for the largest EU civilian mission in the world, the European Rule of Law Mission in Kosovo, known as EULEX. I would be operating in one of the most sensitive spots in Europe. And I would have an important role in the Press and Public Information Office. But was it really me? Would I really like working on 'the other side of the fence'?
Two years on, and I have no regrets about the decision. In fact, it was one of the best decisions I ever made!
EULEX Kosovo, as it is officially called, began operations in December 2008. The mission's mandate is to improve the rule of law in Kosovo, more specifically in the fields of justice, police and customs. Most of the mission's work is to monitor, mentor and advise the local authorities but we also retain executive powers in sensitive areas such as war crimes, organised crime and serious financial crime.
There is a lot at stake. In many ways, the EU's ability to meet its objectives in the Western Balkans depends on EULEX's success.
I joined at the very start, initially working as the Public Outreach Officer in the Press and Public Information Office (PPIO), based in Pristina. I was then promoted to Deputy Head of the unit. With around twenty people including spokespeople, media monitors, graphic designers, camera people and web designers it is quite a large media office.
Many of my skills as a journalist have been transferable and speaking passable Serbian has helped. The work has been varied and challenging: designing information campaigns, directing television adverts, giving interviews and setting up news conferences, being part of official delegations meeting Serbian government ministers, writing articles in the name of the Head of Mission, making presentations before Ambassadors and EU Member States in Brussels, editing the website and intranet.
It is an exhilarating working environment. It is quite something to sit round a table with such a cosmopolitan group of colleagues: a Justice Spokeswoman from Estonia, a customs officer from the UK, a Prosecutor from Holland, a retired General from France, a police chief from Germany, a Chief Legal Officer from Finland, a head of Administration from Greece and a Chief of Staff from the United States (yes, non-EU countries are also represented in the mission). So many languages, backgrounds, skills and, sometimes, differences (which are not always easy to reconcile!).
Whilst the raison d'etre of the mission is to improve the rule of law in Kosovo, a parallel process is clearly taking place - that of helping to build new structures and working practices within the realm of EU foreign policy. In this post-Lisbon Treaty World, EU foreign policy is undergoing major changes and EULEX is at the forefront of it - and that is an exciting process to be involved in.
Of course, it is not all milk and honey. Make no mistake, the EU is an enormous, slow-moving bureaucracy. It can be frustrating and difficult at times. But at the end of the day, that is the price you pay, for being part of something new and developing. It's definitely worth it.
Published 8 September 2010