Libyan dinar banknotes arrive in Libya
UK Special Representative to Libya Dominic Asquith has announced that Libyan dinar banknotes valuing 1 billion dinars arrived in Libya from the UK on 7 September.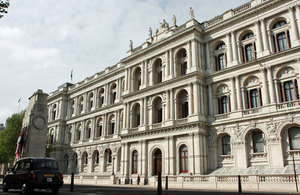 Speaking today the UK Special Representative to Libya said:
"Yesterday, the second batch of Libyan dinar banknotes with a face value of 1 billion dinars arrived in Libya from the UK. The notes had previously been frozen in the UK under the UN sanctions regime. We welcome the delivery of the notes which will be used to pay the wages of Libyan public sector employees, including nurses, doctors, teachers and police officers; provide support for those on social security who have not been paid for a number of months; provide aid for refugees displaced by the conflict; pay for medicines and subsidies for food supplies; and will be transferred to commercial banks in order to make currency available to the general public for their basic living expenses."
On Monday the Foreign Secretary announced that Britain had re-established a diplomatic mission in Tripoli led by the UK Special Representative for Libya.
This followed the Prime Minister's statement to Parliament updating on the latest situation and the work that lies ahead.
Published 7 September 2011