Libyan Ambassador to UK expelled
Foreign Secretary William Hague condemns attack on British Residence in Tripoli.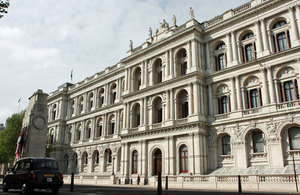 "I condemn the attacks on the British Embassy premises in Tripoli as well as the diplomatic missions of other countries.
The Vienna Convention requires the Qadhafi regime to protect diplomatic missions in Tripoli. By failing to do so that regime has once again breached its international responsibilities and obligations. I take the failure to protect such premises very seriously indeed.
As a result, I have taken the decision to expel the Libyan Ambassador. He is persona non grata pursuant to Article 9 of the Vienna Convention on Diplomatic Relations and has 24 hours to leave the country."
"The attacks against diplomatic missions will not weaken our resolve to protect the civilian population in Libya."
Published 1 May 2011