Libya human rights – voices from Tripoli
Alistair Burt, FCO Minister for Middle East and North Africa hosted a small meeting for people who have experienced first-hand the situation in Tripoli.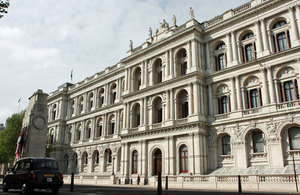 Attendees included ordinary Libyans who have managed to escape from the Libyan capital, representatives from human rights organisations including Amnesty International, Human Rights Watch, Lawyers for Justice in Libya and international journalists. Many of those speaking still have relatives in Libya so they gave their accounts in confidence, so that others could speak out on their behalf.
Following the meeting Mr Burt said:
"Hearing first-hand what people in Tripoli are experiencing was a powerful reminder of why the international community is acting to protect the Libyan people from the Qadhafi regime.
I heard a number of deeply moving and harrowing stories about the regime's activities. I was told that Qadhafi has kidnapped hundreds, possibly thousands of young Libyans; that wounded demonstrators have been followed to hospital and executed; and that asking about someone who has disappeared leaves one in danger of being detained.
Information from Tripoli and Western Libya is hard to come by. The regime is attempting to curtail the flow of news and it is often hard to know what to believe. It is vital that accurate reports continue to emerge and that's why today's event was so important for me."
Published 5 May 2011