Libya Human Rights: a report by the UN Human Rights Council's Commission
Foreign Office Minister Alistair Burt comments on the publication of a report by the UN Human Rights Council's Commission of Inquiry into Libya.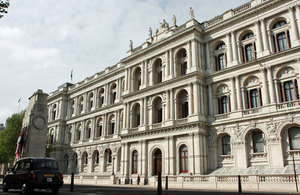 Speaking today, the Minister for the Middle East and North Africa said:
"We are grateful to the Commission for doing such a thorough and wide ranging job in such difficult circumstances, and for shining a light on a deeply worrying human rights situation.
The Commission's finding that war crimes have been committed by Regime forces, backs up the decision of the UN Security Council to refer Libya to the International Criminal Court (ICC). From listening to first-hand accounts of those who have suffered at the hands of the regime, I know how brutal and merciless Qadhafi's forces have been in their onslaught against the Libyan people. I note that, whilst establishing that there have been instances in which opposition forces have been responsible for committing acts which constitute war crimes, which we also condemn, the Commission concludes that these were not part of a widespread or systematic attack against civilians. We also welcome the stated intention of the National Transitional Council to hold to account those responsible for abusing human rights and to cooperate fully with the ICC.
I welcome the Commission's statement that it had not seen evidence to suggest that civilians or civilian objects had been intentionally targeted by NATO forces, nor that NATO has engaged in indiscriminate attacks.
The Commission's work is, and continues to be, of the utmost importance, and we strongly support its request that the Human Rights Council extend its mandate."
Published 2 June 2011