Libya Contact Group meeting in Rome concludes
Foreign Secretary William Hague said the international community is "resolved to continue to take action" on Libya following the second meeting of the Libya Contact Group today.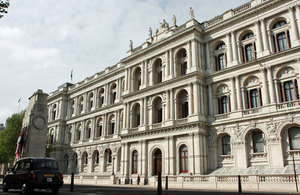 Speaking after the meeting the Foreign Secretary said:
"The Rome Contact Group today sent the clearest signal yet of the international community's unity and resolve to implement UNSCRs 1970 and 1973. More countries took part and reiterated that Qadhafi should go. Their commitment to increase the diplomatic and economic pressure on his regime, alongside the intensification of NATO action, and support to the Interim Transitional National Council, including through the establishment of the Temporary Finance Mechanism, shows that time is against Qadhafi and that the international community is resolved to continue to take action."
The first meeting of the Libya Contact Group was in Doha on 13 April. The Foreign Secretary co-chaired.
The 21 states that attended agreed that Qadhafi's regime had lost all legitimacy, that the National Transitional Council should be offered further support and the UN Special Envoy should take forward an inclusive political process.
Foreign Office Minister Alistair Burt recorded a video after a meeting yesterday with Libyans who have recently fled the Qadhafi regime in Tripoli:
Published 5 May 2011