Libya Contact Group meeting concludes
Foreign Secretary William Hague said "the tide is moving inexorably against Qadhafi" following the meeting of the Libya Contact Group in Istanbul today.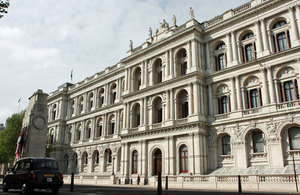 Speaking after the meeting the Foreign Secretary said:
"The Contact Group's decision to deal with the National Transitional Council (NTC) as the legitimate governing authority in Libya, reflects the NTC's increasing legitimacy, competence and success in reaching out to all Libyans. In contrast, Qadhafi has lost all legitimacy in the eyes of the Libyan people and the international community.
"The tide is moving inexorably against Qadhafi. More countries were at this meeting than at previous Contact Groups, including Brazil, India, South Korea and Senegal. Pressure is increasing on all sides - politically, economically and militarily.
"We are committed to seeing this through as shown by our announcement today to send a further four tornadoes to protect civilians in Libya.
"We have always been clear that there must be a political solution and that it is for the Libyan people to determine their own future. That is why the Contact Group today discussed a post-Qadhafi Libya and endorsed the key principles for a process of transition that the UN Special Envoy will take forward. This will be Libyan-led and build on the NTC's roadmap.
"The NTC also set out their plan for how a better, open and free Libya can be created, how post-Qadhafi stabilisation can be achieved and how the International Community - under an overall UN lead - can support this Libyan-led process.
"We will continue to support the NTC and are looking at how we can further contribute to Libya's immediate and future needs, in addition to the military, material and humanitarian support we have already provided. Only today we delivered 5,000 high visibility vests and 5,000 high visibility t-shirts for civilian police in Benghazi. The uniforms will help the re-establishment of a civilian security presence on the streets and will strengthen the capability of the NTC police to provide security in the areas under their control.
"The Contact Group has sent an unequivocal message to Qadhafi: that he has no legitimacy and there is no future for Libya with him in power. He must go and go now".
Published 15 July 2011