Libya and human rights - the way forward
The human rights situation in Libya was discussed in a Wilton Park meeting at the Foreign Office on 11 April.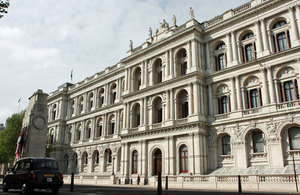 The event brought together British officials with Libyan authors, diplomats, academics and a wide range of international experts on human rights and the Middle East, including leading lawyers, members of international NGOs and journalists.
Participants including Richard Northern British Ambassador to Libya, Abdurrahman Shalgham, former Libyan Permanent Representative to the United Nations, Philippe Sands Professor of Law University College London and Michael O'Flaherty Vice-Chairperson United Nations Human Rights Committee, discussed the human rights situation in Libya and how to ensure human rights considerations are at the heart of UK policy.
Following the conference Alistair Burt Minister for the Middle East said:
"This event was an important and salient reminder of the Libyan regime's appalling human rights record, and it helped to further underline the importance of the international community's actions to protect the Libyan people from the Qadhafi regime.
The forum was also a useful opportunity for UK policy makers to engage with a wide range of experts from lawyers, to academics, to diplomats and leading journalists. These discussions and perspectives will inform UK policy making towards the situation in Libya".
Published 14 April 2011