Press release
Levels of socio-economic deprivation affect screening uptake for breast cancer
Separate study suggests South Asian women should no longer be considered at low risk of breast cancer.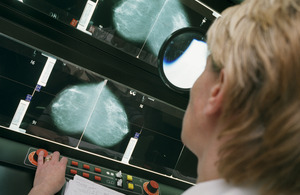 There is a lower uptake of breast cancer screening in more deprived areas, and some ethnic groups should also no longer be considered 'low risk' of developing the disease, according to research presented at Public Health England's National Cancer Intelligence Network annual conference, today (Friday).
Researchers from Public Health England (PHE) London and King's College London concluded that women who live in more deprived areas of London are less likely to attend their first routine breast cancer screening appointment.
The study examined the records of 159,000 women in London aged between 50 and 52 to see whether they attended their first routine breast cancer screening appointment between 2006 and 2009. The largest difference in attendance was in the South East London area, with 73% of women living in the most affluent areas attending their screening appointment, compared with 59% in the most deprived.
Lead author Ruth Jack, epidemiologist from PHE London, said:
It's worrying that breast cancer screening uptake is different depending on the deprivation of the area women live in. We need to make sure that things like cost of travel and having time away from work aren't making it harder for women from more deprived areas to go for screening. Some screening areas within London have a more similar uptake across their area. Any initiatives that have improved attendance in women in deprived areas or from particular ethnic groups should be shared across London and the country.
In a separate study, researchers at the University of Sheffield examined breast cancer rates in the South Asian population in Leicester. Previous studies in the UK have found that incidence of breast cancer is lower in the South Asian population compared to other groups, however, this research points towards a marked change in breast cancer risk in South Asian women over the study period.
Breast cancer incidence data from the National Cancer Registration Service and 2001 census data were used to calculate rates of breast cancer over a 10 year period (2000-2009). Trends in incidence were compared between South Asians and other ethnicities and between socioeconomic groups. Between 2000-2004, South Asian women were found to have a 45% lower rate of breast cancer compared to white women, as found in previous studies.
However, by the 2005-2009 period rates of breast cancer among South Asian women had increased significantly and was 8% higher than white women, whose rates had not changed significantly. In South Asians over 65 years, this change was statistically significant, with South Asian women in this group now having a 37% higher risk of breast cancer than white women.
For all ethnicities combined, rates of breast cancer did not change with socioeconomic deprivation in 2000-2004, but in 2005-2009 it increased with socioeconomic deprivation, contrary to national trends.
Study author Matthew Day, Honorary Lecturer in Public Health at the University of Sheffield, said:
Historically South Asian women, and women in lower socio-economic groups, have been considered at lower risk of developing breast cancer. Based on our study in Leicester, this should no longer be considered the case.The exact causes behind this change are not clear cut, they could relate to increases in screening uptake among these groups of women, which have in the past been shown to be lower than in other groups. Or they could be due to changes in lifestyle factors, like having fewer children and having them later in life, increased use of oral contraceptives, and increased smoking and alcohol intake – factors linked to increased breast cancer risk across the board.
Dr Mick Peake, Clinical Lead at Public Health England's National Cancer Intelligence Network, said:
The London study adds weight to an increasing body of evidence showing that patients from deprived areas access cancer screening less often which you would expect to be translated into worse outcomes. We need to look for new ways to make it easier for people from such areas to attend for screening.The results of the Leicester study should assist public health services to both plan for, and respond to, the changing risk profile of breast cancer in the population, particularly with regards to Asian women who for a long time have been another group whose attendance rate for screening has been low. At the individual level, if women are concerned about breast cancer, they should speak to their GP.
Notes to Editors
One year survival rates for breast cancer is approximately 95%, and 5 year survival is around 85%.
About Public Health England
Public Health England is a new executive agency of the Department of Health that took up its full responsibilities on 1 April, 2013. PHE works with national and local government, industry and the NHS to protect and improve the nation's health and support healthier choices and will be addressing inequalities by focusing on removing barriers to good health. To find out more visit our website www.gov.uk/phe, follow us on Twitter @PHE_uk.
About the National Cancer Intelligence Network (NCIN), operated by Public Health England
The NCIN was established in June 2008 to coordinate the collection, analysis and publication of comparative national statistics on diagnosis, treatment and outcomes for all types of cancer
The NCIN is a UK wide partnership funded by multiple stakeholders
The NCIN will drive improvements in the standards of care and clinical outcomes through exploiting data
The NCIN will support audit and research programmes by providing cancer information and patient care will be monitored through expert analyses of up-to-date statistics
For more information please visit www.ncin.org.uk and www.gov.uk/phe
Public Health England Press Office,
Tel: 07920 205 957
Out of hours telephone: 0208 200 4400

Email: phe-pressoffice@phe.gov.uk
Published 14 June 2013
Last updated 14 June 2013
+ show all updates
The second sentence on the third paragraph was amended to read "The largest difference in attendance was in the South East London area"
First published.