Letter to local authorities on cross-government savings
Access to Michael Gove's letter to local authorities on cost-cutting measures and a series of relevant questions and answers.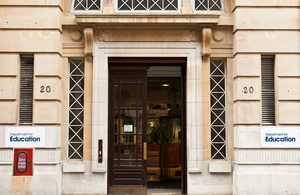 The Secretary of State for Education has written to all local authorities setting out the details of the Department for Education's contribution to the £6.2 billion of cross-government savings announced on Monday, 24 May 2010.
The letter can be downloaded from this page, while a series of frequently asked questions and answers regarding free school meals is available below.
Q. What is happening with free school meals?
A. The government has decided not to proceed with the previous administration's decision to extend free school meals to some nursery and primary pupils from September, or to run additional pilots. Given the current financial climate, it is right that schools focus this year on their core business of attainment.
Q. Are you stopping free school meals?
A. We are not stopping free school meals. All pupils who are currently eligible will continue to receive them, but we are stopping expanding eligibility further this year. Given the current financial climate, it is right to focus schools' budgets on our priority of raising attainment.
Q. Are you changing the free school meal criteria?
A. The rules for determining eligibility for free school meals are not changing. All pupils who would currently qualify for free school meals will continue to be eligible.
Q. Doesn't this make a sham of your commitment to reducing child poverty?
A. Not at all. The government continues to support reducing child poverty in other ways, but it is right that schools' budgets this year focus on our priority of attainment.
Q. Isn't this unfair to pupils in the pilot areas announced in April that were going to start in September (i.e. universal primary free school meals in Islington, Bradford, Nottingham and targeted partial pilots in Cumbria and Medway)?
A. We said we would review spending announcements made since January. These pilots were only announced in April and wouldn't have started in schools until September, so nothing is being taken away from parents who are currently eligible. While this may be disappointing for some parents in these areas, we don't need these pilots to learn if extending free school meals is a good thing.
Q. What will happen to the pilots in Newham, Durham and Wolverhampton?
A. We will continue to fund the pilots, and their evaluation, in Newham, Durham and Wolverhampton that started in 2009 so that we can learn the lessons from those pilots.
Q. Why take free school meals away from deprived pupils when you are introducing the pupil premium to help them? Isn't this giving with one hand and taking with the other?
A. That is conflating two completely different issues. We are not taking free school meals away from anyone who currently gets them. The pupil premium will direct additional funds to schools to support deprived pupils in ways that schools judge is best. This gives schools the flexibility they need to help those pupils who most need it.
We are interested to see if there is also a case for expanding free school meals, which is why we are continuing the pilots in Newham, Durham and Wolverhampton that have already started. We want to see what their evaluation tells us. It isn't right to invest substantial new sums into additional free meals at this time.
Q. Does this mean you're not interested in school food?
A. Not at all, but it's right that we don't significantly expand our investment in school food this year. Not extending free school meals will free up £125 million that we can use more directly to improve attainment. And not proceeding with the phase 2 pilots will free up a further £35 million.
DfE media enquiries
Central newsdesk - for journalists 020 7783 8300
Published 16 June 2010