World news story
Letter from the Minister for Europe to Nadia Savchenko and Ms Savchenko's reply
Letter from the Minister for Europe, David Lidington MP to Nadia Savchenko on the anniversary of her detention and Ms Savchenko's reply.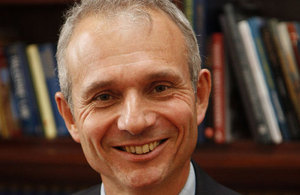 Dear Ms. Savchenko,
It has been a year since you were captured then taken illegally across the border from Ukraine into Russia. During 12 months of incarceration, you have shown immense courage and resilience.
Eight hundred years ago, my country embarked on a journey towards the rule of law. The Magna Carta, or Great Charter, may date back to 1215, but one powerful idea lives on to this day: that no person should be subject to arbitrary arrest or imprisonment.
This idea is reflected in the Russian constitution, it is enshrined in human rights legislation around the world, and it is respected by international bodies that Russia has joined.
While you have been in prison, fighting in your country has continued.
Russia is a signatory to the Minsk agreements that were intended to end this conflict. Earlier this month, President Putin told an Italian newspaper that these agreements must be implemented. You will be well aware that they provide for the "release and exchange of all hostages and illegally held persons."
The British Government calls on Russia to live up to all of its international commitments and to its commitments under the Russian constitution, and to release you immediately.
Ms. Savchenko, your remarkable fortitude and strength of character have sustained you so far. We will continue to press for your immediate release.
Yours sincerely,
David Lidington
Minister of State for Europe Foreign & Commonwealth Office
Nadezhda Savchenko's reply (reproduced as written)
Dear Mr. Lidington, Thank You for Your most inspiring letter and for Your words of support for me and my country. I'm happy to see once again in modern history British stand for just cause against lie, agression and abuse of international law. It seems now it's Ukrainians' turn to meet infamous enemy in our homeland. Both my country and me, we have no coice but to face the challenge and to do our best in our fight. And be sure – we shall never surrender. Yours, Nadia Savchenko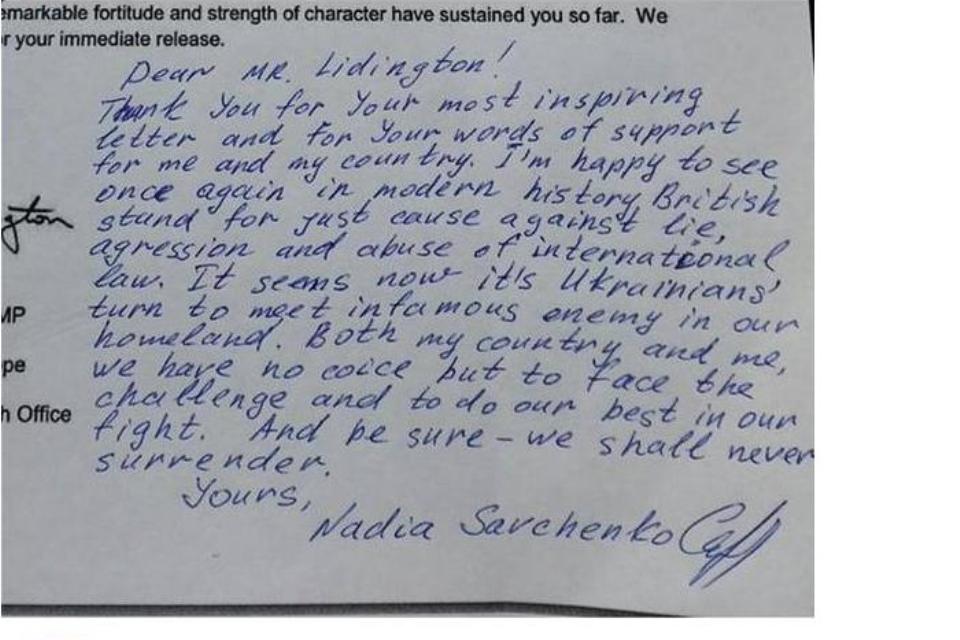 Published 3 July 2015