Let's get digital – new online system to cut Blue Badge application time
New service means applicants can complete the entire process online.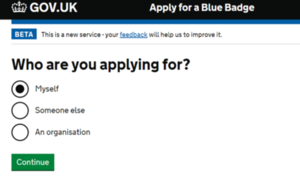 overhaul of Blue Badge application service removes unnecessary red tape
new digital tool will reduce application time to less than half an hour
decrease in wait times will get people out and about as quickly as possible
People eligible for Blue Badges can apply in a fraction of the previous time, thanks to a new online service launched by the Department for Transport.
The Blue Badge scheme allows disabled people to park closer to their destination than other drivers, as they are less able to take public transport or walk long distances.
The new service will mean applicants can complete the entire process without the time-consuming task of sending their supporting documents in the post, allowing people to upload documents instead, including proof of identity, and photographs.
This fully integrated, end-to-end process will allow people with disabilities to access Blue Badges quickly, giving them the freedom and confidence to travel with ease.
Promotional video for the Blue Badge online service
Transport Minister Jesse Norman said:
Blue badges are a lifeline for many disabled people, and it's important to make the application process as quick and easy as possible.

Speeding up the process will allow people to access the tools they need to travel independently, and with confidence.
In a survey of councils last summer, the department found that on average it takes an applicant 17 days from applying to receiving a brand new Blue Badge – or 28 days if a medical assessment is required.
The new online system is expected to reduce the time it takes to apply for a Blue Badge to 13 minutes.
Applications for individuals that do not qualify for automatic eligibility – where additional information to support the application is required – are expected to be reduced to 25 – 30 minutes. However, for those that need it, an offline process to apply for a Blue Badge will still be available.
Roads media enquiries
Media enquiries 020 7944 3021
Out of hours media enquiries 020 7944 4292
Switchboard 0300 330 3000
Published 14 January 2019