Leicestershire flag flies at Department for Communities and Local Government
The flag representing the historic county of Leicestershire has been hoisted above the department's offices.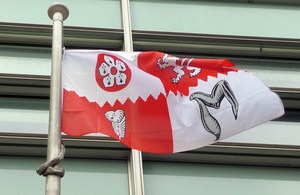 To celebrate the important place counties play in the nation's cultural heritage Secretary of State Eric Pickles has asked that English county standards be flown alongside the Union Flag outside DCLG's Eland House headquarters in Victoria.
Mr Pickles raised the first flag - for his adopted home county of Essex - in a ceremony also attended in September by celebrity astrologer and long-time English county campaigner Russell Grant.
Flags are being flown for a week at a time in alphabetical order or - in cases such as Cornwall and Yorkshire - to coincide with particular county days.
Eric Pickles said:
The Union Flag rightly has pride of place outside the department but I'm delighted it will now be flown alongside our traditional and ceremonial county flags.

England's counties continue to form an important part of our cultural and local identity in this country and many people remain deeply attached to their home county - both the traditional 'cricket' counties and in some cases their more modern administrative successors. This sense of pride and shared identity is 1 of the things that binds communities together and it's right that the government department responsible for communities and local government should be actively recognising the important role they play.
The Lord-Lieutenant of Leicestershire, Jennifer, Lady Gretton, said:
Leicestershire has played its part in historic events that have made this an important part of England. Leicester was an important Roman town and a millennium later the 13th Century Earl of Leicester, Simon de Montfort, arranged the first elected parliament in medieval Europe, so starting parliamentary democracy as we know it today (the white lion on the flag is taken from his Arms).

In 1485 one of the most important battles in English history - the Battle of Bosworth - saw the defeat and death of King Richard III and victory for Henry Tudor.

Today Leicestershire has become an important area for the British economy with its mixture of agriculture and manufacturing. This is where Stilton cheese was first made and the modern jet engine invented. Agriculture continues alongside engineering today together with increasingly significant sectors such as food processing and the service industry.

We are a diverse county with excellent inter-cultural and inter-faith relations supporting communities of many talents and with shared values.
Further information
The department is obliged to fly the European Union flag during Europe Week (week beginning 9 May) under Article 7(2) of EC Regulation 1828/2006.
The Leicestershire flag has been kindly loaned by the Association of British Counties at no charge.
Photographs of the county flags will be added to the DCLG Flickr channel
Published 31 January 2011