News story
Legislators in Kerala discuss socio-economic causes and impact of climate change
First ever such discussion in Kerala hosted by the British High Commission.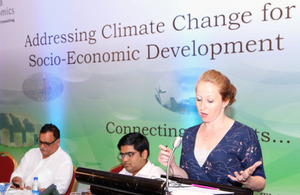 MLAs and Councillors from across Kerala today met in Thiruvananthapuram to discuss the socio-economic causes and impact of climate change. The Hon'ble Minister for Power Mr Aryadan Mohammed was present and welcomed the fact that this discussion would help inform plans at State and local government level action in Kerala whether it is to do with action on energy, water or waste management.
Ms Rachel Brass, First Secretary (Energy and Climate), British High Commission, New Delhi said: 'India is already determined to reduce the carbon intensity of its economy. The UK is working with India in the context of its National and State Action Plans on Climate Change. We have shared policy lessons which have helped make low-carbon inclusive growth a key element of the 12th Five Year Plan and helped India implement its Perform Achieve and Trade (PAT) scheme that obliges energy-intensive sectors to measure, report and improve their energy efficiency.
Ms Brass added: 'The progressive policies of successive state governments have seen Kerala develop a record in social and human development indices that is the envy not only of many states in India but of many countries across the world. Kerala's model of decentralised government and devolution of power to local bodies is sought after. Today's discussion invites Kerala to be a part of pioneering action in the response to climate change. We are thrilled to see today, MLAs and Councillors from across Kerala, come together to discuss the socio-economic causes and impact of climate change. We hope they will develop longer term discussion and action that involves the private sector and NGOs and welcomes ideas and experience from across sectors.
Mr C P Muhammed, MLA and Chairman, Environment Committee, Kerala State Legislative Assembly welcomed the gathering. Mr Vijay Balki, Athena Infonomics and Advocate Ms Jebi Mather Hisham, Councillor, Aluva Municipality, Kerala set the context for the discussion with select MLAs and Councillors from across Kerala. MLAs from Kerala who attended the discussion today included Mr C P Mohammed (Pattambi), Mr P C Vishnunadh (Chengannur), Mr K M Shaji (Azhikode), Mr M V Sreyams Kumar (Kalpetta), Mr T A Ahmed Kabeer (Mankada), Prof. C Raveendranath (Puthukkad), Mr A M Ariff (Aroor), Mr Mullakkara Retnakaran (Chadayamangalam), Mr Koliakode N Krishnan Nair (Vamanapuram). The discussion today was hosted by the British High Commission as part of support to projects involving GLOBE and Climate Parliament (CP) that aim to reach climate change and energy issues to legislators.
Notes to editors
Published 26 March 2013