World news story
Legalisation of UK degree certificates
Please read this article to know more about the legalisation of UK degree certificates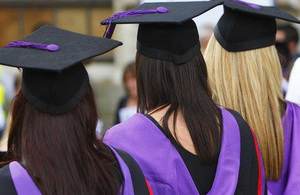 The fastest and easiest option for Ecuadorean students who need to legalise their UK degree certificate is to visit a solicitor before they leave the UK with the original university certificate and ID. The procedure can be completed in just a few minutes for a small charge. The document will then have to be legalised by the FCO. Details of how to arrange that are here.
If you have already left the UK, there are public notaries that can conduct the process, for an additional fee. Further information and a list of public notaries is available here. You will need to check with the notary whether they are able to receive the document from Ecuador without you attending in person, and whether they can send the document directly to the Legalisation Office on your behalf. This option is significantly more expensive given the courier charges to and from the UK.
Get the latest news in our Twitter account and follow the British Ambassador Patrick Mullee or check out our Facebook page.
Published 29 July 2016