Press release
Leading infrastructure firms commit to carbon reduction
Thames Tideway Tunnel, Lafarge Tarmac, Temple Group, Kier Infrastructure and Barhale Trant Utilities sign Infrastructure Carbon Review.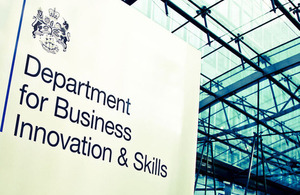 Companies Thames Tideway Tunnel, Lafarge Tarmac, Temple Group, Kier Infrastructure and Barhale Trant Utilities have today (27 October 2014) become the latest signatories to the Infrastructure Carbon Review (ICR).
Led by the Green Construction Board, the ICR is a joint industry and government initiative targeted at leading businesses and their supply chains that aims to make carbon reduction an integral part of infrastructure construction in the UK.
Since the ICR's launch last year (2013) some 30 organisations have endorsed the joint initiatives to reduce carbon in infrastructure. This could amount to an annual saving of 24 million tonnes of carbon dioxide equivalent by 2050, delivering a benefit to the UK economy of up to £1.46 billion a year and contributes towards meeting the Construction Leadership Council's 2025 50% carbon reduction ambition.
The new commitments were made at the Infrastructure Carbon Review One Year On Conference hosted by the Department for Business, Innovation and Skills (BIS).
Speaking at the conference, BIS Minister Nick Boles, welcomed the commitments:
All the evidence shows that cutting carbon is good for business. That's why companies responsible for some of the country's largest infrastructure projects have made this important commitment.

Companies like HS2 Ltd, National Grid, Skanska and their supply chains are leading the way in efforts to reduce carbon, saving valuable resources as well as reducing costs. I'd like to extend this challenge to infrastructure companies and organisations across the UK so they can claim their share of the economic rewards of reducing carbon.
A number of signatories have already developed new and creative methods to reduce carbon. Connect Plus, a joint venture of Balfour Beatty, Skanska, Atkins and Egis, has developed a new and innovative concrete pavement repair process, using ultra-rapid cure concrete. This has cut the time needed for M25 land and carriageway closures from 1,500 hours to just 300 per annum, together with a carbon saving of 500 tonnes.
Peter Hansford, Government Chief Construction Adviser and member of the Green Construction Board said:
I am pleased to see the enthusiastic support of clients and suppliers across the infrastructure sector. The individual commitments they have made will go a long way towards achieving our ambitions of reducing cost and carbon emissions in the built environment over the next decade. I encourage others to come on-board.
New signatory, Thames Tideway Tunnel's Environment Manager, Suzanne Burgoyne said:
We are proud to pledge to lower our carbon emissions as part of our project to tackle pollution of the tidal River Thames. Through the Infrastructure Carbon Review we are demonstrating our commitment to low carbon and the protection of the wider environment.
The conference was attended by a range of industry leaders including Chairman of Crossrail Terry Morgan and Mike Putnam, President and CEO of Skanska UK and co-chair of the Green Construction Board.
Notes to editors:
1.Launched in November 2013, the Infrastructure Carbon Review set out a series of actions for government, clients and suppliers to reduce carbon from the construction and operation of the UK's infrastructure assets, in line with the UK's climate change commitments. The Review was developed jointly by government and industry though the Infrastructure Cost Review and Green Construction Board. It now has a core group of some 30 signatories.
2.List of organisations that have endorsed the Infrastructure Carbon Review:
HM Government
HM Treasury
Government's Chief Construction Adviser
The Green Construction Board's Infrastructure Working Group
UK Power Networks
Costain
JN Bentley
Balfour Beatty
@One Alliance
Carillion
Skanska
The Clancy Group
Galliford Try
Laing O'Rourke
National Grid
Defence Infrastructure Organisation
UK Green Building Council
ICE
BAM Nuttall
Murphy Group
Mott Macdonald
Arup
Highways' Agency
EDF (New Nuclear)
Heathrow Airport Ltd
Atkins
Network Rail
HS2 Ltd
Crossrail Ltd
NG Bailey
VINCI Construction UK
Anglian Water
3.The Green Construction Board (GCB) was established in October 2011 as a consultative forum for government and the UK design, construction, property and infrastructure industry. It was established to ensure a sustained high-level conversation and to develop and implement a long-term strategic framework for the promotion of innovation and sustainable growth in this sector. In the shorter term, its key priority has been to provide improved focus, direction and clarity to the business and growth opportunities being created by the shift to a green economy.
Its purpose is to:
provide co-ordinated leadership across government and industry on the issues contained in the Low Carbon Construction Action Plan
monitor the delivery of that action plan and, through its development, ensure it remains relevant and appropriate
act as a sounding board for government departments for new or challenging green construction issues, to facilitate effective policy making and better informed commercial decisions
advise on the implementation of policies related to green construction, identifying sector specific implications and consequences
promote UK achievements in the field of green construction and provide a strong public voice on its wider value to the economy, to society and to the environment
4.The GCB represents a close co-operation between government and senior figures from the construction, infrastructure and property industries. The board met earlier this year (2014) and announced that it will continue its work for a further 2 years.
5.Since the publication of the industrial strategy for construction, Construction 2025, in July last year (2013), the GCB now also has a key role in delivering the ambition of a 50% reduction of greenhouse gas emissions by 2025. This will be its focus for the next 2 years.
Published 27 October 2014