Leading entrepreneur Emma Jones appointed as new Small Business Crown Representative
Emma Jones MBE has been appointed to help more small businesses in the UK bid for and win government contracts.
This news article was withdrawn on
As of January 2019, Emma Jones is no longer the Crown Representative for Small Business.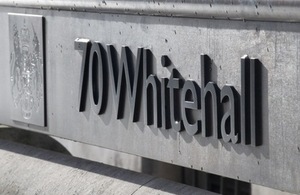 In her new position working with government departments and the Crown Commercial Service, Emma Jones will help smaller businesses in the UK bid for and win important government contracts.
This supports the government's manifesto commitment to spend £1 in every £3 with SMEs by 2020.
Emma Jones is the founder of small business support group Enterprise Nation, and the co-founder of the national enterprise campaign 'StartUp Britain'.
She has also recently been announced as one of the government's trade ambassadors. In her role as Small Business Crown Representative Emma will initially be focused on:
working with government and the refreshed Small Business Panel to identify remaining barriers to SMEs in doing business with the public sector
supporting the launch of a new campaign to help show that "Government is Open for Business" for SMEs and wants to help them bid for and win more contracts
increasing awareness with smaller businesses of opportunities to deliver on behalf of larger private sector firms who are delivering government contracts
working with government to identify new opportunities to get best value from SMEs
Becoming a government supplier is a tried and tested way to grow a small business. Glen Shoosmith, founder of BookingBug, an appointment scheduling system, has grown his business by over 1000%, partly due to his success in winning central and local government contracts.
Speaking about her new appointment, Emma said:
I will be championing small business from within the heart of Government, but with a big emphasis on rallying the small business troops to connect and engage with government opportunities.

I'll be looking to simplify further the bureaucracy that small businesses can face, and increase awareness of opportunities so that start-ups and SMEs have more chances to build their businesses.

Securing a government contract is a great way for firms to bring in a steady income stream that can really help a business to grow – especially with the Government's pledge to pay within 30 days.
Minister for the Cabinet Office Ben Gummer said:
I am delighted to welcome Emma as the new Crown Rep for Small Business. I know how tough running a small business can be for entrepreneurs who have put their savings or pensions into their dreams.

Government must be firmly on their side and do everything it can to make their lives easier. That's why we made a manifesto commitment that £1 in every £3 of government procurement spending should go to SMEs by 2020.

As the founder of Enterprise Nation, Emma has had enormous success campaigning on behalf of small businesses, so it is great that government can now benefit from her experience, enthusiasm and expertise. I can think of no one better to help us achieve our goal.
The Cabinet Office has estimated that 27% of government's procurement spending or £12.1 billion reached small and medium-sized enterprises (SMEs) in 2014-15, surpassing its target of 25%. Government now aims to increase its spending with SMEs to 33% by 2020.
 Notes to editors
Emma is contracted to work one day a week in the paid role:
she will continue to run Enterprise Nation for the rest of the week
the role is part of the Crown Representative Network, which was an approach introduced by the Cabinet Office to align procurement across all Government departments, acting as a focal point for particular groups of providers looking to supply to the public sector
Emma's focus will be to:
help reach the government's manifesto target of 33 per cent of central government procurement spent directly and indirectly with SMEs by 2020.
lead on the overall relationship with small businesses who supply or wish to supply government with goods or services.
proactively identify strategic opportunities for government to secure better value via small businesses
advise Ministers on government's engagement with small businesses suppliers
build strategic commercial engagement with representative groups and other stakeholders about small business public procurement issues
encourage SMEs to consider central government as a new market, including participating in conferences and events
work with the Small Business Panel to identify remaining barriers to small businesses and work with government to remove them
introduce new simplified features, easy-to-follow guides, and how-to webinars to ensure the opportunity to work for Government is accessible for relevant small businesses.
 About Crown Representatives
Crown Representatives help the government to act as a 'single customer'. The Crown Representatives have transformed the way government engages with our larger suppliers, receiving positive feedback from industry as well as securing cost reductions and high quality services for taxpayers.
Where some Crown Representatives lead the strategic relationship with a number of suppliers, others take on a 'cross-cutting role' managing the relationship with a particular industry group, for example banking or the voluntary sector. The Small Business Crown Representative role falls in this second group.
About Enterprise Nation
Enterprise Nation is a small business network and business support provider with more than 70,000 members. Its aim is to help people turn their good ideas into great businesses – through expert advice, events, acceleration, networking and inspiring books.
Enterprise Nation was founded in 2005 by Emma Jones MBE, also co-founder of national enterprise campaign StartUp Britain. She is author of best-selling business books including Spare Room Startup, Working 5 to 9, Go Global, Start a Business for £99 and the StartUp Kit, Going for Growth. In 2016 she was announced as the Government's Trade Ambassador.
For more details, or to arrange an interview, contact Cabinet Office press office on: 07074 667 000
Published 17 July 2016